Tiny Gold® Barberry
Berberis thunbergii 'Tiny Gold' PP17084
Tiny Gold® Barberry
Berberis thunbergii 'Tiny Gold' PP17084
How are the heights measured?
All tree, and nothin' but the tree! We measure from the top of the soil to the top of the tree; the height of the container or the root system is never included in our measurements.
What is a gallon container?
Nursery containers come in a variety of different sizes, and old-school nursery slang has stuck. While the industry-standard terminology is to call the sizes "Gallon Containers", that doesn't exactly translate to the traditional liquid "gallon" size we think of. You'll find we carry young 1-gallons, up to more mature 7-gallons ranging anywhere from 6 inches to 6ft.
How does the delivery process work?
All of our orders ship via FedEx Ground! Once your order is placed online, our magic elves get right to work picking, staging, boxing and shipping your trees. Orders typically ship out within 2 business days. You will receive email notifications along the way on the progress of your order, as well as tracking information to track your plants all the way to their new home!
Why are some states excluded from shipping?
The short & sweet answer is: "United States Department of Agriculture Restrictions." Every state has their own unique USDA restrictions on which plants they allow to come into their state. While we wish we could serve everyone, it's for the safety of native species and helps prevent the spread of invasive disease & pests. We've gotta protect good ole' Mother Nature, after all.
About Me
-
The Tiny Gold Barberry is a small deciduous shrub that grows a little more than a foot tall, keeping a dense, compact form. It has small leaves that are glowing gold in spring, turning more chartreuse green in summer, and this coloring is perfect for adding light and brightness to any garden space at all, including planter boxes. It needs no clipping to look perfect all the time, and it doesn't produce any seed, so it is safe to grow it anywhere, even where barberries can spread into the natural environment around you.
Perfect small mound of golden leaves that stay that way
The right size for low 'no-clip' borders
Dense compact structure always looks neat and tidy
The ideal plant for smaller gardens and limited spaces
Tough and reliable in a wide range of garden conditions
Full sun will bring out the strongest coloring in the Tiny Gold Barberry, but it will grow in some partial shade too, but be more greenish. It thrives in any well-drained soil, including poor urban soils and in difficult locations. Once established it is drought resistant, and it is cold resistant even in zone 4. Pests and diseases are normally never an issue, and deer don't like it either. A simple clip of older plants in early spring will keep it as neat as anyone could ever want it to be – but this is strictly optional.
*This variety produces little or no viable seed, so it cannot become invasive. It is safe to grow even where Berberis is restricted.
Plant Hardiness Zones 4-9

Mature Width 1-2

Mature Height 1-2

Sun Needs Full Sun
There is no doubt that golden yellow and chartreuse green are the most useful colors in the garden, to lift and brighten any planting. They blend perfectly with any shade of green, and with just about any other color at all, and they add light and brighten wherever they are used. If we look among the barberry bushes we find a number of tough, reliable plants in these colors, but most are several feet tall, and so for front edging, and in small beds they are too big, and need lots of trimming if you use them in a small space. This is exactly where the Tiny Gold Barberry steps in, because this small but bright little shrub is just a foot or two tall and wide when mature, so it makes an edge that really doesn't need trimming at all. Dotted in small beds, or planted in drifts in larger ones, it will bring splashes of color without crowding everything else out – oh, and it's perfect for planter boxes and pots too.
Growing the Tiny Gold Barberry
Size and Appearance
The Tiny Gold Barberry is a small mounding deciduous shrub that grows into a dense bush between one and two feet tall and wide. It has many tiny branches, with small, sharp spines on them. It grows just 1½ to 2½ inches a year, never becoming large and problematic. The small oval leaves are only ¾ of an inch long and ½ an inch wide, with many closely-packed leaves along each branch. On new stems the leaves are arranged evenly, but on older branches they grow as dense leafy clusters close together along the branches. New leaves in spring are an exciting rich gold that really packs a punch. As summer comes they gradually become more chartreuse green – a wonderful and sophisticated garden color – with deeper greens inside the bush and if grown in shade. For an added punch, the leaves turn bright red once cooler fall weather arrives, bringing a great lift to your beds, and then they drop for the winter. The tiny leaves just disappear, needing no raking or blowing.
Although some small yellow flowers might be seen on older branches in spring, they don't produce any seed, so this plant is totally non-invasive – a great bonus for gardeners in areas where old-fashioned berberis are a problem, spreading into wild areas.
Using the Tiny Gold Barberry in Your Garden
Wherever you need a splash of gold to brighten your garden, the Tiny Gold Barberry steps up and does the job. It is perfect for a golden edge to a bed or a path, and it can be clipped or not, since it will never become large. Create rivers of gold flowing among your other shrubs, along the top of a wall, or down a small slope. For containers and planter boxes it is unsurpassed, adding gold without ever outgrowing its welcome.
Hardiness
Small but tough, the Tiny Gold Barberry thrives in all zones, from 4 to 9, and it is just as resistant to cold as it is to heat.
Sun Exposure and Soil Conditions
Grow the Tiny Gold Barberry in full sun for the best golden foliage coloring, but it will also grow with a few hours of shade each day. It doesn't scorch and burn, as so many other yellow-leaf plants do, so it always looks great. It will grow in any well-drained soil, including poorer soils, urban soils and other harsh conditions. Until it becomes established you should water it regularly, but once it does it is resistant to all but the harshest drought conditions.
Maintenance and Pruning
Pests and diseases don't bother this little guy, so it needs virtually no care at all to always look good. Deer normally find it unattractive, with its sharp spines. Even if you like neat edging, you won't need to trim for years. Once it reaches the size you want, a light trim in early spring, before the new leaves appear, is all it will take to keep it neat all season long. Of course, you don't need to trim at all, so we put this plant in the 'plant it and forget it' category.
History and Origin of the Tiny Gold Barberry
The Japanese barberry, Berberis thunbergii, has a long history in gardens, ever since it was introduced from Japan in 1875 by explorers with the world-famous Arnold Arboretum in Boston. A form with golden leaves first appeared in a nursery in the US in the 1950's, and since then a number of others have been created. A lot of breeding of this plant has taken place in Europe, and Michal Andrusiv, from Litomyšl in the Czech Republic is an expert at making the tricky crosses needed to develop new plants. In the early 1990s he crossed together two older varieties of the Japanese barberry – the golden-leafed `Aurea` and `Atropurpurea Nana`, a small purple-leaf variety. In 1994 he found what he was looking for. Among the seedlings that grew from this cross was one that was perfect gold, but tiny. He named it 'Tiny Gold' and patented it in 2006.
Buying the Tiny Gold Barberry at The Tree Center
We love these different barberry bushes, for their toughness and great colors. The Tiny Gold Barberry is undoubtedly the neatest and most compact gold form around, and we know we will be shipping it out from the moment it arrives. Don't hesitate with your order, and we will get it out to you right away – as long as we still have plants in stock.
Invasive Plant Info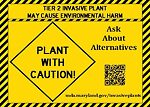 Although Japanese Barberry is quite popular throughout the US, it is found to be invasive in a number of states including our home state of MD. Although it can be bought and planted it should be planted with caution. it is listed as a tier-2 invasive plant in Maryland.
Back to top
Tiny Gold® Barberry
Berberis thunbergii 'Tiny Gold' PP17084