Concorde Barberry
Berberis thunbergii f. atropurpurea 'Concorde'
This product does not ship to AK, CA, HI, PR, WA
Concorde Barberry
Berberis thunbergii f. atropurpurea 'Concorde'
How are the heights measured?
All tree, and nothin' but the tree! We measure from the top of the soil to the top of the tree; the height of the container or the root system is never included in our measurements.
What is a gallon container?
Nursery containers come in a variety of different sizes, and old-school nursery slang has stuck. While the industry-standard terminology is to call the sizes "Gallon Containers", that doesn't exactly translate to the traditional liquid "gallon" size we think of. You'll find we carry young 1-gallons, up to more mature 7-gallons ranging anywhere from 6 inches to 6ft.
How does the delivery process work?
All of our orders ship via FedEx Ground! Once your order is placed online, our magic elves get right to work picking, staging, boxing and shipping your trees. Orders typically ship out within 2 business days. You will receive email notifications along the way on the progress of your order, as well as tracking information to track your plants all the way to their new home!
Why are some states excluded from shipping?
The short & sweet answer is: "United States Department of Agriculture Restrictions." Every state has their own unique USDA restrictions on which plants they allow to come into their state. While we wish we could serve everyone, it's for the safety of native species and helps prevent the spread of invasive disease & pests. We've gotta protect good ole' Mother Nature, after all.
About Me
-
The Concorde Barberry is the perfect small shrub to bring bright reds and purples to those smaller spaces in your garden. Growing between 18 and 24 inches tall, and the same across, it makes a dense mound of branches covered in small, round leaves, that begin the year red in spring, turn deep red-purple all summer, and then become bright red in fall. Bright yellow flowers add an extra touch in spring. Its smaller size makes this bush ideal for edging, foreground groups in beds, or as a permanent colorful shrub in your planter boxes and containers. You can rest easy too about the negative effect of this barberry on the environment, because it produces almost no seeds, and it has been approved after years of research as a safe variety to grow.
Perfect small, dense mound of dense purple leaves
Turns brighter purple-red in fall
No seeds, so non-invasive and safe to grow
Yellow flowers in spring
Great choice for planters and containers too
The Concorde Barberry grows almost everywhere, from zone 4 to zone 8. Plant it in a sunny or partially-shaded area, in any kind of soil that is not constantly wet. Once established it is very drought resistant, so it's ideal for those hot, dry spots, and even for xeric, low-water gardening. Tough, easy to grow, pest, disease and deer resistant, you will find so many uses for this colorful little shrub around your garden that you will wonder how you ever lived without it.
Plant Hardiness Zones 4-8

Mature Width 2

Mature Height 1-2

Sun Needs Full Sun, Partial Sun
The range of shrubs and trees with colored foliage available to gardeners continues to grow. With less time for our gardens, but still wanting color and interest, colored foliage has become the 'go-to' for months and months of color, replacing of the brief showing of most flowering plants. You can still of course grow flowers, but colored shrubs give a solid background of interest, and bright leaves never fail to look exciting in the garden. Colored shrubs come in many colors, from the blues of evergreens to the bright yellows of many unique plants. Of them all, though, red and purples remain the most popular, because they bring such a lift, and such brightness, to the garden, standing out against the regular green of more ordinary plants.
The only problem is that many shrubs are too large for foreground planting, or in a small garden, so we were excited when we saw the Concorde Barberry. We knew right away that this terrific shrub would have wide appeal, and be useful to so many gardeners, in so many different situations. Its compact size, combined with rich reds and purples, makes this the standout shrub everywhere you need 'small and bright' from a tough, low-maintenance bush. Welcome to easy gardening.
Growing Concorde Barberry Shrubs
The Concorde Barberry is a reliable, hardy shrub growing about 18 inches tall and certainly no more than 24 inches tall, with a spread of up to 24 inches. It makes a broad, rounded mound of dense branches, covered in small leaves which are brightly colored in red and purple. The young shoots are red, so that in spring the plant is a bright patch of richness against the spring greens.
As summer comes they darken, and become maroon-purple, while the newer leaves are red, making a rich tapestry of blended colors. All through the hot months this color endures, not fading to dirty green, as happens with many other plants with colored leaves. Then in fall, with colder nights, the leaves turn bright scarlet, making a bold splash to finish the season for another year. In spring small yellow flowers hang in clusters from the branches, adding even more brightness. A scattering of red berries may hang on the plant in early winter, but this bush has very few, if any, berries.
Uses on Your Property
This versatile small shrub has so many uses it is hard to know where to begin. Do you want a low edging to a bed, along a path or lawn? Plant the Concorde Barberry 15 to 18 inches apart, and you have it. Clipping is an option extra for the meticulous gardener. Splashes of color among other small shrubs and flowering plants? One plant, or in a larger space a group of three or five plants of the Concorde Barberry will do the trick. Looking for container plants that don't need annual replacement, but bring all-season color? You've got it with the Concorde Barberry.
Planting and Initial Care
The Concorde Barberry grows well even in zone 4, but it is still happy in zone 8, which means that almost everyone can grow one. It thrives in full sun, but a couple of hours of shade will not be a problem. Too much shade and it will still grow, but less densely, and some green will creep into the leaf color. As for soil, as long as it is not sitting in water, you have a happy plant. Any reasonably-drained soil will work, from sand to clay. As well, this plant really enjoys drier soils, and once established it will tolerate drought and even xeric conditions.
If watering is a problem in your area, then you can still grow this plant – just make sure you give it some water during its first growing season, to become established and spread its roots about. Pests and diseases don't bother it, and deer won't munch it either. (It has spines on the stems, but these will not be a problem for you, as they are tucked under the leaves out of harm's way).
Is it Invasive?
In some areas, barberry is not welcome, because it can seed and be spread by birds into surrounding natural areas, displacing native plants. Not wanting to give up completely, scientists at the University of Connecticut spent 7 years studying the many different forms, measuring their seed production and invasion potential. They produced a list of 'acceptable' and 'unacceptable' varieties of barberry, and although some old favorites are no longer acceptable, the Concorde Barberry is on their 'acceptable' list, because it produces almost no seed, meaning it can never escape into natural areas. Growers in many places have accepted that list, and we too, as responsible suppliers, only sell 'safe' varieties. So you can rest easy – your ecological responsibilities are completely fulfilled, but you can still enjoy the rich color of a purple barberry – the Concorde variety.
History and Origins of the Concorde Barberry
Japanese Barberry (Berberis thunbergii) grows wild in China and Japan. The first plants arrived in America in 1875, collected by explorers from the Arnold Arboretum in Boston. It quickly became popular in gardens for its yellow flowers and red berries and proved very easy to grow. Forms with purple leaves first appeared in France at the beginning of the 20th century, and the Dutch too created several. It is not clear exactly where or when the 'Concorde' variety was found, but we can thank the anonymous creator for their discovery of this terrific dwarf shrub.
This plant must be produced from stem pieces, and not from seed, otherwise that rich coloring and dwarf form will be lost. Our plants are produced that way – from stem pieces – so you get exactly the right colorful dwarf shrub. Now that barberry is back on the 'safe for the environment' list, demand is high for these versatile plants. Order now while we still have material to send you.
Invasive Plant Info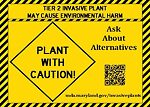 Although Japanese Barberry is quite popular throughout the US, it is found to be invasive in a number of states including our home state of MD. Although it can be bought and planted it should be planted with caution. it is listed as a tier-2 invasive plant in Maryland.
Back to top
Concorde Barberry
Berberis thunbergii f. atropurpurea 'Concorde'