As our lives become busier and busier, gardeners look for effective ways to have colorful gardens without all the work of regular replanting of flowers, or from shrubs that are pretty for a week or two each year, with a long period of boring green for the rest of the time. Colored foliage is the answer, and a great answer it is, because plants with colored leaves are bright for months and months, not just for days. Purple and gold are the most popular colors, and of course we want those plants to be reliable and easy to grow too. The Royal Burgundy® Barberry ticks all those boxes and adds in colorful spring flowers and winter berries too – a lively and attractive plant in almost every month of the year.
Growing Royal Burgundy® Barberry Shrubs
The Royal Burgundy® Barberry is a dense, twiggy shrub with leaves right to the ground, growing to 2 to 3 feet tall, with a broad, arching habit that covers an area 3½ feet across. The many branches grow upwards and then arch over, giving the plant an attractive mounded look, that needs no trimming or pruning to stay that way. This deciduous shrub has rounded leaves about an inch across, with a smooth surface that begins the year matte and covered with minute hairs, and later becomes more glossy. In spring the new leaves emerge in an exciting rich burgundy color, bringing bold color right from the get-go. They darken as they mature, and by fall they will have become a deep reddish black, making the perfect contrast to the many fall shades of gold and orange on the plants around them. The stems have a cluster of three spines at the base of the leaves, which also makes this plant great for resisting entry by animals and people into spots you don't want them to go.
For extra color and interest, in spring, as the new leaves are just emerging, clusters of bright-yellow flowers grow all along the stems, each one just ½ an inch across, like tiny bells, but together making a strong statement that spring has arrived. By fall these are replaced by clusters of bright red berries, which become very conspicuous once the leaves fall. They brighten the garden in early winter, before providing an important dietary supplement for the wild birds. Despite the berries, this barberry has few seeds, so unlike other varieties that have become environmental problems by spreading into surrounding wild areas, you can do no harm growing the Royal Burgundy® Barberry.
Uses in Your Garden
Grow this tough and reliable shrub as a specimen in a small bed, or as a group, planting 2 feet apart, in the foreground of a larger bed. Make a low hedge with it along a border or driveway. Plant it among evergreens as part of the foundation planting around your home, or in more natural settings among rocks and gravel with interesting dwarf evergreens, for extra color without extra work. Its moderate size makes it also a great way to fill planter and containers, and it makes the perfect permanent center-piece, to surround with trailing or rounded lower plants of your choice. Always interesting, it gives good continuity while other plants come and go.
Planting and Initial Care
The Royal Burgundy® Barberry doesn't stop at just being beautiful, it is also tough and reliable, thriving in difficult locations and needed no care to do so. It loves sun, and for the best foliage color always plant in a spot that is sunny for most or all day. It will grow in almost any soil, except for ones that are regularly flooded, and once established it is very drought-resistant too. Most of the plants in your garden should be self-reliant and tough, leaving you some time for those special things that need a little more care, and this barberry plant fit that description. It has no pests or diseases causing any problems, deer leave it alone, and even the falling leaves are small and disappear into the ground, with no raking needed. For low-maintenance planting it cannot be beaten.
History and Origins of the Royal Burgundy® Barberry
Japanese barberry, Berberis thunbergii, is found as a wild shrub growing in China and Japan. The first plants arrived in America in 1875, collected by explorers from the Arnold Arboretum in Boston. It was soon very popular in gardens for its yellow flowers and red berries, and it was very easy to grow. New forms with purple leaves first appeared in France at the beginning of the 20th century, and in 1942 an attractive dwarf plant with purple leaves, called Crimson Pygmy, was developed at the Van Eyck Nursery, in the famous plant-growing area of Boskoop, Holland. A new form was found in 1989 growing among plants of Crimson Pygmy, at the Leo Gentry Wholesale Nursery in Gresham, Oregon. This plant is called 'Gentry', and it was patented in 1996, although that patent has now expired. This great plant is today usually called the Royal Burgundy® Barberry, and it is the top-pick of purple-leaved barberry plants.
Our plants are carefully grown from stem pieces, to keep the plant exactly like the original, and these reliable, tough, and drought-resistant plants are always very popular and in high demand. Don't pass up this change to bring color and interest to your garden with a super-tough, easy-care but beautiful shrub. Order now while stocks last.
Invasive Plant Info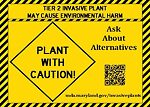 Although Japanese Barberry is quite popular throughout the US, it is found to be invasive in a number of states including our home state of MD. Although it can be bought and planted it should be planted with caution. it is listed as a tier-2 invasive plant in Maryland.