Crimson Pygmy Barberry
Flowers are always nice, but plants have to earn their keep in the garden even when they are out of flower. Although it is always good to have plenty of calming green leaves in the garden, lots of plants are valuable for their foliage color, and an always-popular color is purple to red. The Crimson Pygmy Japanese Barberry is a great plant to bring strong and vibrant deep red foliage into your garden with a low-maintenance, tough and trouble-free plant. A plant that is the perfect size for any garden too, growing to no more than 3 feet in height and 3 to 4 feet wide. Once established, the Crimson Pygmy Barberry is drought-resistant and thrives in almost any kind of soil.
Crimson Pygmy Barberry (Berberis thunbergii Atropurpurea Nana') is a lovely plant that brings immediate impact to your landscape. It features a truly useful compact size, and best of all—it works beautifully without fuss.
Highly ornamental, this deciduous ornamental shrub showcases outstanding crimson foliage that is overcast with a superb bronze sheen. Autumn adds a dash of brilliant orange for fall color. No wonder this plant won the Award of Garden Merit of the British Royal Horticultural Society!
Crimson Pygmy is resistant to disease, urban conditions, deer and insects and requires little pruning to maintain its tiny, full and arched shape.
This fabulous small accent shrub is a true little workhorse in the landscape. Besides the colorful foliage, the Crimson Pygmy Barberry offers a lot of interest with tiny yellow flowers for butterflies and a sprinkling of reddish-purple berries on the spiny stems for songbirds.
Crimson Pygmy Barberry is a naturally dwarf variety of Japanese Barberry. It stays small in stature and works in many garden applications throughout your yard.
You can plant the Crimson Pygmy Japanese Barberry in groups of one, two, three, five or more plants, to make an attractive mass of color among your other shrubs. It can become an important part of your foundation planting around the house, giving color and interest without being too tall and blocking windows. You can use it in a similar way among shrubs and flowers in your garden beds, or plant it among boulders and gravel where its bright color will look great against the grey or sandy colors of stone. It also makes a terrific low barrier planting, or as an edging along a driveway, or to define a large bed. If you have beds where you regularly plant annual flowers, use one or more Crimson Pygmy Japanese Barberry as permanent center-piece plants in the beds.
Use it as a beautiful barrier in foundation plantings, a memorable border plant, or in brightly colored mass plantings. It will easily enliven rock gardens all growing season long. Crimson Pygmy can also be used in containers to add a pop of color to your patio.
Savvy gardeners across the country love Crimson Pygmy Barberry. It's adapted across a wide range and performs well in Zones 4-8. If you give it protection from the afternoon sun, it will thrive in Zone 9, too.
Even though the Crimson Pygmy Barberry is known to produce fewer seeds than other Barberry varieties, some states do have regulations against the Barberry genus. Count on Nature Hills to protect your community in restricted areas. We use Plant Sentry™ online software to stop shipments of regulated plant material.
Size and Appearance
The Crimson Pygmy Japanese Barberry is a deciduous shrub growing just 2 to 3 feet tall and 3 to 4 feet wide, with a dense, twiggy structure right to the ground. Each stem is covered with masses of small, rounded leaves, in a deep, rich shade of purple-red. The leaves are in clusters along the stem, not spaced individually, which makes for a denser look, even on a small plant. At the base of each leaf cluster is a sharp spine, so be a little careful handling this plant and don't put it where you are constantly brushing past it.
Tips for Care
Even if you are busy, your Crimson Pygmy Barberry can thrive. This slow-growing, natural dwarf shrub is very low maintenance.
Good drainage is important, but it will tolerate almost any soil type. It grows well in well-drained, medium moisture soil in full sun and thrives once established.
You can prune this pretty plant in late summer or early winter to help it keep its beautiful arching growth habit and lush little shape. It's perfectly amenable to being shaped, if you want to treat it as a topiary or downsize it.
Snip any errant branches back into the mound to encourage bushy new growth. Wear gloves when you work with your Crimson Pygmy!
Crimson Pygmy prefers full sun but does well when given morning sun and afternoon shade in hotter climates. The more sun, the more purple-red the leaves become. In too much shade, you'll see more green leaves.
Please baby it a bit as a new plant. Water it well when you unbox it, following our printed instructions in every box. For the first several weeks, get out there and poke your finger in the soil next to the plant every other day or so.
Is the soil starting to get dry? Drag the hose out and saturate the area. Is the ground under the surface still moist? Skip watering that day.
Once Crimson Pygmy gets its root system established in your native soil, it will only need infrequent watering. Plan to apply additional water during extended periods of drought.
In a normal year, Barberry isn't a deer favorite, and it is listed as Deer Resistant. However, deer will eat anything if they are hungry enough. In deer country, use Deer Repellent Spray on every single new planting. Reapply according to the directions through the growing season.
The depth of color on the Crimson Pygmy is incredible. You can literally lose yourself for several minutes studying the beautiful leaves. Grab your camera when you head outside!
Fall in love with the beautiful little Crimson Pygmy Barberry. In return, it will give you many years of brilliant performance with very little care. Order enough for your landscape today!
Invasive Plant Info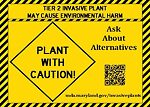 Although Japanese Barberry is quite popular throughout the US, it is found to be invasive in a number of states including our home state of MD. Although it can be bought and planted it should be planted with caution. it is listed as a tier-2 invasive plant in Maryland.