Foliage color is the number-one feature of interest in modern gardens. Flowers are nice, but they last only a brief time, and for most of the year the plant will just be plain green. If you plan your garden for foliage color, then you will have month after month of display and brightness, without the expense of constantly buying flowering plants. Your garden will have permanent, low-maintenance color – what's not to like?
One of the most popular plants for foliage color is the barberry bush. This shrub has been available with dark-red leaves for a long time, but today we have lots of additional choices. Rich golden-yellow is always an important color to put into your garden – its brightness brings a smile to everyone's face, and lifts other colors too, so your whole garden glows. Barberry shrubs can be wide and full, taking up a lot of room, especially in a small garden, so when all of us here at the Tree Center heard about the Golden Rocket Barberry we were thrilled. This variety has everything – bright chartreuse-yellow foliage from spring to fall; a narrow, upright habit that gives height without taking up much room; and to top it off, it has almost no seed production, which is great, because barberry has become invasive in some parts of the country, and we don't want to add to that problem.
Growing Golden Rocket Barberry Bushes
Golden Rocket Barberry is an upright, deciduous shrub with small, bright yellow leaves carried all the way up the stems. It grows steadily to between 3 and 5 feet tall, but stays narrow and upright, fitting perfectly into spaces less than 2 feet wide. The stems are coral-red, contrasting strikingly with the foliage, and making an attractive color feature of their own during the winter months. At every season, this plant looks great, and really brightens your garden. In fall the leaves may be flushed with red, but the yellow color is a constant feature, without any greening during summer, as other older varieties do. Some yellow flowers may be seen in spring, but they rarely or never produce any seed, so no berries are seen on this plant.
Uses in Your Garden
Golden Rocket Barberry is a smart choice to plant among other shrubs, for the color contrast it brings. It makes a beautiful informal hedge or low screen, if planted 12 to 18 inches apart. The stems are spiny, so a screen of this plant is impenetrable to animals, and it makes an excellent security feature planted below windows. It grows steadily at about 6 inches a year, so it is not going to outgrow its space, and have you constantly trimming and pruning. With its narrow profile it fits well into small gardens, and its toughness makes it ideal for urban gardens and courtyards. It also grows well in containers, making it perfect for planter boxes along a patio or terrace.
Planting Location
For the best foliage color, plant Golden Rocket Barberry in a sunny place. Water regularly during the first season, but after that this plant is tough and drought resistant to all but the most extreme conditions. It grows happily in any well-drained soil and it is ideal for tough urban gardens, since it is also resistant to air pollution. In rural places it is usually left alone by deer, and normally never eaten by rabbits. It has no significant pests or diseases and it is resistant to rust disease. Best of all, it produces no seeds, so it cannot spread into the environment around you – you can grow it knowing you are not aiding the spread of alien plant species.
History and Origins of the Golden Rocket Barberry
Japanese barberry (Berberis thunbergii) grows naturally in China and Japan. It was first grown in America in 1875, when the Arnold Arboretum in Boston, a famous center for gardening and plant introductions, brought it over. The original plants had green leaves, but gardeners developed varieties with colored leaves, first red, and then gold and pink, and the wild, green form is hardly ever seen today. The variety called 'Golden Rocket' was developed by Michal Andrusiv, a specialist breeder of barberry, from the town of Litomysl, in The Czech Republic. He has created a number of wonderful barberries, and he selected 'Golden Rocket' from a group of his special seedlings in 1994. He patented it for sale in the USA in 2004, and since then it has become the top choice for a slender, golden-leaved barberry.
Our plants are produced under license, so they are guaranteed to be the correct variety, with all its unique features. Cheaper plants may be seedlings, or outdated inferior varieties. Our customers are always looking for the best, so order now before we are sold out of the Golden Rocket Barberry.
Invasive Plant Info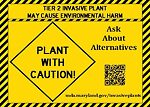 Although Japanese Barberry is quite popular throughout the US, it is found to be invasive in a number of states including our home state of MD. Although it can be bought and planted it should be planted with caution. it is listed as a tier-2 invasive plant in Maryland.