William Penn Barberry
Berberis × gladwynensis 'William Penn'
William Penn Barberry
Berberis × gladwynensis 'William Penn'
How are the heights measured?
All tree, and nothin' but the tree! We measure from the top of the soil to the top of the tree; the height of the container or the root system is never included in our measurements.
What is a gallon container?
Nursery containers come in a variety of different sizes, and old-school nursery slang has stuck. While the industry-standard terminology is to call the sizes "Gallon Containers", that doesn't exactly translate to the traditional liquid "gallon" size we think of. You'll find we carry young 1-gallons, up to more mature 7-gallons ranging anywhere from 6 inches to 6ft.
How does the delivery process work?
All of our orders ship via FedEx Ground! Once your order is placed online, our magic elves get right to work picking, staging, boxing and shipping your trees. Orders typically ship out within 2 business days. You will receive email notifications along the way on the progress of your order, as well as tracking information to track your plants all the way to their new home!
Why are some states excluded from shipping?
The short & sweet answer is: "United States Department of Agriculture Restrictions." Every state has their own unique USDA restrictions on which plants they allow to come into their state. While we wish we could serve everyone, it's for the safety of native species and helps prevent the spread of invasive disease & pests. We've gotta protect good ole' Mother Nature, after all.
About Me
-
The William Penn Barberry is a little-known plant that is making a big comeback. This striking evergreen bush with arching branches has beautiful glossy green foliage that turns deep red in fall and winter. The full clusters of golden yellow flowers along the stems in spring make a colorful show, and the dark-blue berries in fall are fascinating. Don't confuse this plant with the Japanese barberry – no, this is a hybrid, non-invasive plant that loves hotter parts of the country. It makes a tough and resistant barrier to intruders and looks simply beautiful.
Unique barberry with glossy green leaves
A non-invasive variety, safe to grow everywhere
Masses of large golden flowers in spring
Blue berries in fall
Evergreen leaves turn red for fall and winter
Zones from 6 to 9 are where to grow the William Penn Barberry. It enjoys lots of sun, and it loves hot, dry places, with well-drained soil, even if they are sandy, stony and dry. Avoid wet areas and it will thrive and grow vigorously for you. No special care is needed, and it can be trimmed into a hedge as needed or left to grow naturally bushy. It has no pests or diseases, and both deer and rabbits leave it alone.
Plant Hardiness Zones 6-9

Mature Width 4-6

Mature Height 4-5

Sun Needs Full Sun, Partial Sun
When the Japanese barberry was first brought to America 150 years ago, it was an immediate hit with gardeners, who loved its brilliant yellow spring flowers and bright fall berries. Since then it has earned itself a bad reputation because birds spread its seeds, and these grow into plants in wild areas, interfering with the local ecology. Today the emphasis in Japanese barberry is on the wonderful forms with colored leaves, which are often free of flowers and fruit, and so unable to spread. The William Penn Barberry captures the old-style charm of golden flowers and green leaves, but without the invasiveness, because it is a hybrid of two Chinese species, and it is not a Japanese or European barberry at all. Its handsome arching stems literally drip with gold when the bunches of large golden flowers open all along them, and its evergreen foliage turns red in fall, but stays all winter. The unique blue berries in fall round out a tough and reliable garden shrub that you are going to love – and so will your local wilderness areas.
Growing the William Penn Barberry
Size and Appearance
The William Penn Barberry is a mounding shrub with many arching branches rising from the base. It grows rapidly to about 4 feet tall, with a slightly wider spread from the way the branches grow gracefully outwards. The stems are ribbed with long ridges of bark, which is a muted yellowish-green color. The leaves grow in clusters all along the stems, and at the base of each leaf cluster is a trio of sharp spines, each about ½ an inch long. These make this plant a useful deterrent to intruders of both the two and four-legged types. Planted beneath windows it makes them virtually entry-proof, and as a hedge it will keep out stray pets and probably deer too.
The leaves are glossy dark green, with a leathery texture, about 3½ inches long and ¾ of an inch wide. They grow in clusters along older stems, and in pairs along new shoots. Their edges have a row of tiny spines, adding to the resistance of this plant. The leaves are green all summer, and they turn lovely shades of deep red in fall, but they mostly stay on the bush for the winter. They drop in April, as the new leaves emerge. These are bronzy-red when young, but by late spring they have changed, returning this plant to its summer green.
The flowering of the William Penn Barberry is spectacular, with many flower clusters, each with up to 10 large yellow blooms, hanging all along the branches. The blooms nestle among the new green leaves, making a lovely display. By fall they have been replaced by clusters of dark-blue berries, which are eaten by birds, but don't spread into wild areas.
Using the William Penn Barberry in Your Garden
Wherever you need volume and interest in your beds, that is where the William Penn Barberry belongs. Use it beneath windows or plant it at the back of smaller beds. Grow it as a row along a fence, or as a divide between one area of your garden and another. Plant it in sunny areas on rocky slopes, in a natural garden, or in more formal settings – it will always look attractive, and for an impenetrable hedge it cannot be beaten.
Hardiness
The William Penn Barberry is not cold resistant like the Japanese barberry. It is hardy in zone 6, and it thrives in all the hottest zones.
Sun Exposure and Soil Conditions
Grow the William Penn Barberry in full sun, or perhaps a little partial shade, but not too much. It will grow vigorously and easily in any well-drained soil, and it grows well in sandy, poorer soils too. It is very drought resistant, and loves a hot, dry location. Always tough and reliable, it needs no special care at all to thrive.
Maintenance and Pruning
If you want a dense hedge you can trim this plant after blooming, and again in summer if needed. Otherwise it needs no special attention. Older plants should have a few of the oldest branches removed at the base – wear gloves – to encourage new stems to grow and maintain its vigor. Pests and diseases are normally not seen, and both deer and rabbits leave this plant alone.
History and Origin of the William Penn Barberry
Only the Japanese barberry, Berberis thunbergii is seen in most gardens, but there are about 200 species around the world, with many in Asia. Berberis verruculosa is a species from western China, with large yellow blossoms. Mary Gibson Henry was a prominent American botanist and plant collector, with a large garden in Gladwyne, Pennsylvania. Back in the middle of the 20th century she was growing that barberry, and one day she spotted a seedling beneath it, which looked very different. She collected some seed from it and grew more seedlings. She at first thought this plant was a hybrid between B. verruculosa and another Chinese barberry, B. julianae. In 1963 she was given a patent on her plants (#2, 212, now expired) with that parentage, but today we know the other parent was probably B. gagnepainii, another Chinese species known for its blue-black berries. That same hybrid was also independently found early last century in the Netherlands, and also in France. Mary Henry named her plant 'William Penn', and her garden became the basis of the Henry Foundation, a botanic garden set up with her inheritance.
Buying the William Penn Barberry at The Tree Center
We love the old-style look of this shrub, with its spectacular blooming and very attractive foliage. It is perfect for an older home, but also great for a modern planting. We would love to see it more widely grown, and you can be the first in your neighborhood to do that, but order them right away, as our supply of this rare plant is very limited, and they will be all gone very soon.
Invasive Plant Info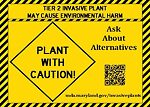 Although Japanese Barberry is quite popular throughout the US, it is found to be invasive in a number of states including our home state of MD. Although it can be bought and planted it should be planted with caution. it is listed as a tier-2 invasive plant in Maryland.
Back to top
William Penn Barberry
Berberis × gladwynensis 'William Penn'