Orange Rocket Barberry
Berberis thunbergii 'Orange Rocket' (PP #18411)
This product does not ship to AK, CA, HI, PR, WA
Orange Rocket Barberry
Berberis thunbergii 'Orange Rocket' (PP #18411)
How are the heights measured?
All tree, and nothin' but the tree! We measure from the top of the soil to the top of the tree; the height of the container or the root system is never included in our measurements.
What is a gallon container?
Nursery containers come in a variety of different sizes, and old-school nursery slang has stuck. While the industry-standard terminology is to call the sizes "Gallon Containers", that doesn't exactly translate to the traditional liquid "gallon" size we think of. You'll find we carry young 1-gallons, up to more mature 7-gallons ranging anywhere from 6 inches to 6ft.
How does the delivery process work?
All of our orders ship via FedEx Ground! Once your order is placed online, our magic elves get right to work picking, staging, boxing and shipping your trees. Orders typically ship out within 2 business days. You will receive email notifications along the way on the progress of your order, as well as tracking information to track your plants all the way to their new home!
Why are some states excluded from shipping?
The short & sweet answer is: "United States Department of Agriculture Restrictions." Every state has their own unique USDA restrictions on which plants they allow to come into their state. While we wish we could serve everyone, it's for the safety of native species and helps prevent the spread of invasive disease & pests. We've gotta protect good ole' Mother Nature, after all.
About Me
-
Orange Rocket Barberry is a new and exciting barberry bush with leaves that are a wonderful orange-red color. It forms a shrub that is 4 or 5 feet tall and just 2 or 3 feet across, a perfect size for a smaller garden, or for group planting in a larger one. The spring and summer foliage is orange-red, and then in fall the leaves turn brilliant shades of bright ruby-red, before falling for the winter. Yellow flowers followed by red berries in winter may also be produced by this colorful and useful plant. It is winter hardy all the way down to minus 30 degrees, and it also grows in all but the very hottest areas. This great plant can bring its bright colors to almost every garden across the country.
Striking orange-red foliage
Perfect way to have bright color for months on end
Spectacular ruby-red fall colors
Easily grown and hardy to minus 30
Tough and hardy medium-sized shrub for every garden
Plant your barberry bushes in a sunny position. It will also grow in partial-shade, but the color of the leaves will not be so strong. It will grow well in almost all soils, except for wet ones, and it is resistant to pests and diseases. It has sharp thorns, so it is not eaten even by deer, and the thorns also make it a terrific security plant beneath windows, along fences, or to protect other vulnerable parts of your property.
Plant Hardiness Zones 4-9

Mature Width 2-3

Mature Height 4-5

Sun Needs Full Sun
Everyone loves flowering trees and shrubs, but most of them last just a few days or perhaps a couple of weeks. For the rest of the year most are attractive, but they are just green leaves. Planning a garden that will always have something in flower is difficult, and many flowering plants need extra care to grow well. This is why gardeners are increasingly turning to colored foliage, and plant breeders are producing new color forms of plants to help them. Plants with colored leaves brighten our gardens for months, and make a colorful garden easy to achieve. There are many different plants to choose from, but the ideal ones are also easy to grow, hardy and no trouble to maintain.
Orange Rocket Barberry is right at the top of any list for color and ease of care. It will grow across almost all the country, in cold areas as well as hot ones. It produces spectacular orange-red leaves in spring, which hold their brilliant color into summer, gradually fading to light green, but then bouncing back in fall in dramatic shades of ruby red. You will have vibrant and changing colors for many months of the year. Even in winter the reddish twigs add soft color to the landscape, especially against fresh snow.
Gardeners just loved this plant when it was introduced into America a few years ago, and it won the award for Best New Shrub of 2010 from the Oregon Association of Nurserymen. It makes a great contrast with plants that have yellow leaves or flowers, and it can be used anywhere in the garden to brighten up shrub plantings, or as a low screen. It can even be very easily clipped into a short hedge.
Growing Orange Rocket Barberry Bushes
Orange Rocket Barberry grows quickly into a shrub 4 to 5 feet tall, but narrow (only 2 or 3 feet wide). This is great because narrow plants fit well into smaller gardens, without taking over. It has upright stems with clusters of small, smooth leaves all along them. There are 6 to 12 leaves in each cluster, and these are in fact short side-shoots on the stem. The true leaf of the stem forms a sharp spine just below the leaf cluster. Young stems are reddish, and as they mature they develop a brownish bark. This particular variety of barberry produces just a few yellow flowers in spring, hidden among the colored foliage. It may also produce red berries which will be visible and attractive after the leaves fall.
Hardiness
This barberry is hardy all the way down to minus 30 degrees in winter, and it grows well in hot areas too. This means that it can be grown by almost everyone, across all the country. It will grow in most garden soils, except for wet areas, and it is resistant to normal drought conditions once established. It is not eaten by deer, or bothered by any significant pests or diseases. It needs no care at all to bring fabulous color to your garden for months, but it can be trimmed in spring before the new shoots appear, if you want to reduce its size a little. It is also useful to cut it back by about half every few years, to encourage attractive long shoots, with the best foliage color, but this is not at all necessary to grow this plant successfully.
Planting Location
Choose a sunny spot in your garden for this plant to develop the best colors, and with its spines it makes a great security plant beneath windows or along a fence. Keep you plant well-watered during the first year or two, and then watering will only be needed during very dry conditions.
History and Origins of the Orange Rocket Barberry
Japanese barberry (Berberis thunbergii) was named after the famous Swedish doctor, botanist and plant explorer Carl Peter Thunberg. He found this plant while travelling in Japan around 1775, and it was named after him by the Swiss botanist de Candolle. The plant grows naturally throughout Japan, and it is also found in China. The wild plant has leaves of a dark green color, but several garden varieties have been produced, originally in dark red, but today in yellow too. The orange color of the Orange Rocket Barberry is a special breakthrough, and gives us something new and special for the garden.
'Orange Rocket' was developed in 1995, as a seedling from a cross between two other colored forms of Barberry, the golden barberry (B. thunbergii 'Aurea') and a red-leafed upright form, 'Helmond Pillar'. This was done in Litomysl, the Czech Republic, by the plant breeder Michal Andrusiv. The unique color of this variety, and its narrow form, come from these parent plants. Clearly this is a very special plant that cannot be grown from seed, so avoid cheap seedling barberry plants, which will not be anything like this unique plant at all. Our stock of Orange Rocket Barberry Shrubs are guaranteed to be true to the original form.
Invasive Plant Info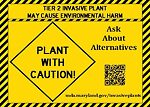 Although Japanese Barberry is quite popular throughout the US, it is found to be invasive in a number of states including our home state of MD. Although it can be bought and planted it should be planted with caution. it is listed as a tier-2 invasive plant in Maryland.
Back to top
Orange Rocket Barberry
Berberis thunbergii 'Orange Rocket' (PP #18411)