Nothing beats colorful foliage for long-lasting color in the garden. Rich purple-reds are always the top choice for many gardeners, and these are colors that bring wonderful vibrancy and strength to your planting arrangements. It is useful to have a range of sizes available, and we certainly always want plants that are no trouble to grow, and that need no special attention. The barberry shrubs stand out for their reliability, adaptability and toughness – and they come in many sizes and colors too. You could probably build a whole garden with nothing but them, but more realistically they are certainly ideal if you have a garden to fill and not much time to work on it. For the front of beds, as edging, or for dotting around smaller gardens, few shrubs rival the Sunjoy® Mini Salsa. Its compact growth and size, combined with rich ruby-purple foliage and a definite easy-care habit, make it a plant that no garden should be without.
Growing the Sunjoy® Mini Salsa Barberry
Size and Appearance
The Mini Salsa Barberry is a compact deciduous shrub that grows into a dense, twiggy plant growing between 18 and 24 inches tall and wide. Its slender but tough stems have sharp spines along them, making this plant ideal for keeping out unwelcome critters, with either four or two legs.
The leaves are small and oval, with a smooth, glossy surface. They are typically about ¾ of an inch long, but the stems are tightly packed with many leaves, so it is always bushy and dense. The leaves begin in spring a bright deep red, and new leaves are always that color, throughout the growing season. As they mature the leaves quickly become a deep, rich burgundy purple, and they hold that color throughout the summer and the fall too, without greening or changing color. This means you have a very stable and permanent color in your garden, making it easy to add other colors to it. This dark, rich tone blends well with just about any other color in the garden, so you won't create nasty color clashes either.
In spring, as the new leaves are expanding, you will see clusters of 2 or 3 small bright yellow flowers along the older stems, making a pretty effect. In fall, as the leaves fall, you may see bright red berries all along the stems that have developed from those flowers. These add a touch of color going into the winter, and valuable winter food for birds too. They do mean, though, that this plant is not an ideal choice if you live in a region where Japanese barberry is known to escape into surrounding natural areas, and it should not be grown in states where seed-producing barberries are prohibited. Check our range of other barberries, where there are many varieties available that don't seed, and that can be safely grown anywhere in the country.
Using the Sunjoy® Mini Salsa Barberry in Your Garden
Wherever you need a compact, colorful bush – that is the ideal spot for this versatile shrub. Grow it as an edging along a bed, a path or a driveway. It will almost never need clipping, but it will stay neat and compact. Space plants 12 inches apart for a continuous row, or for creating drifts of purple threading through your shrub beds. Plant it at the corners of beds, as color points among flowering plants, and also in planter boxes and containers.
Hardiness
Despite its smaller size, the Mini Salsa is just as tough as its bigger brothers, and it is totally hardy in zone 4, and all the way through zone 8. It will also grow in south-western and north-western zone 9 areas, but not so well in northern Florida.
Sun Exposure and Soil Conditions
Full sun will give the best leaf color, but this plant will tolerate a few hours of shade each day without any problems. It will grow in any well-drained soil, even poor, rocky soils, heavy clays, urban soils, polluted areas, and other difficult sites. This is a very tough and adaptable plant that will grow just about anywhere that isn't a swamp. Once established it is drought resistant, and it thrives out in those hot and dry parts of the garden where many other plants fail.
Maintenance and Pruning
The Mini Salsa Barberry is normally not bothered by pests or diseases, and it has specific resistance to wheat rust, so it can safely be grown in farming areas. Deer normally leave it alone, thanks to its sharp little spines, and normally this is a trouble-free and very easy plant to grow. Once it has been growing for a few years you might, if you like super-neat plantings, clip it lightly in early spring before the new growth begins.
History and Origin of the Sunjoy® Mini Salsa
The Japanese barberry, Berberis thunbergii, was brought to America in 1875 from Japan by plant collectors with the Arnold Arboretum in Boston. Those plants had green leaves, and they were grown mostly for their flowers and fruits. It was grown in Europe too, and there, around the beginning of the 20th century, forms with dark red leaves began to appear. One of these is still popular, and it is called 'Concorde'. Early this century Timothy Wood, a grower with Spring Meadow Nursery, Inc. in Grand Haven Michigan, collected some berries from plants of 'Concorde' and extracted the seeds. He grew them and in 2006 he spotted a plant among them with great potential. It had excellent dark leaf color, and a remarkable neat and compact habit. He named it 'Mimi' and it was patented in 2014. It was given the common name of Mini Salsa, and today it is part of Spring Meadows Proven Winners® range, one of their Sunjoy® range of colorful new barberry varieties.
Buying the Sunjoy® Mini Salsa at The Tree Center
If you want colorful easy gardening, then you want this plant, especially if your garden is small, or you need compact plants for sunny areas. Don't hesitate to order, because everyone else wants these plants too, and they don't stay in stock very long at all.
The sale of Japanese Barberry varieties that produce seeds is banned in Maine, New York State, and Minnesota. Other states have placed restrictions. Although we attempt to stay up to date on each states' Department of Agriculture regulations, rules can vary, and change rapidly. This link will show you the situation in your own state and remember that barberry is not a problem in many states. Check our site for non-seeding varieties of Barberry, as many are available. These are not restricted by most states, as they cannot spread.
Invasive Plant Info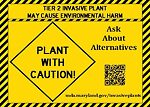 Although Japanese Barberry is quite popular throughout the US, it is found to be invasive in a number of states including our home state of MD. Although it can be bought and planted it should be planted with caution. it is listed as a tier-2 invasive plant in Maryland.