When it comes to colorful foliage, the barberry bush is an endless source of great color. Especially this century we have been treated to many wonderful new varieties that keep the renowned toughness of this easy-care shrub, but give us new vibrant colors, and sometimes new shapes too. The Rosy Rocket Barberry manages to do both. Not only are the leaves variegated in pink and red, and go through multiple color changes in a season, but instead of the usual rounded bush, we have a wonderful narrow pillar. Perfect for accents and slim hedges, this one is a real winner.
*This variety produces little or no viable seed, so it cannot become invasive. It is safe to grow even where Berberis is restricted.
Growing the Rosy Rocket Barberry
Size and Appearance
The Rosy Rocket Barberry is a strong-growing deciduous shrub that reaches about 4 feet in height but stays only 18 inches wide. The many branches thrust straight upwards, creating a powerful vertical accent that is small enough to fit into any garden, but colorful enough to stand out. All along the stems are clusters of brightly-colored leaves. These are about an inch long, varying a little from smaller to larger, and they are round, with a smooth, slightly glossy surface. At the base of each leaf cluster is a single ¼ inch sharp spine, that makes this plant great for creating a hedge that is impenetrable for all intruders – both two and four-legged. In spring you may see clusters of tiny, bright yellow flowers, but it is the leaves that really stand out and make the show.
The new leaves in spring are a bright and perfect soft pink, marbled and mottled with deeper pink to red markings. The effect is vibrant and appealing, and enhanced by the bright pink color that the young stems also have. As the summer comes, the leaves mature to a deeper red, and the mottling fades to an almost solid color, but new growth continues to be pink and red, creating an exciting effect, with two colors of foliage on a single plant – marbled pink at the top and edges, deeper red further down and in the center. Then in fall the colors deepen and the marbling returns to all the plant, making a powerful seasonal climax. As the colder weather arrives the leaves fall, and suddenly we see a hidden treasure. Those yellow flowers, long forgotten, have turned into clusters of bright red berries that garland the stems for weeks, before being taken as food for birds.
Using the Rosy Rocket Barberry in Your Garden
The Rosy Rocket Barberry is very versatile in the garden. Use it for vertical accents in smaller beds, or in the front sections of larger ones. Alone it looks great, and in a cluster of 3 or 5 it looks even better. For this effect, space them 2 feet apart, so that each individual plant stands out. Use it in planters and tubs as a centerpiece, with other plants around it, or as a colorful screen along the edge of a terrace or balcony. It is also a perfect way to make a chest-high hedge that will only be 12 inches wide, and that will fit into narrow spaces. For a tight hedge, space plants 12 inches apart. Not only is this a colorful way to edge a large bed or driveway, it is also a novel way to make your windows entry-proof, by planting around them with this spiny plant. You can also block entry points where cats or dogs may be passing into your garden.
Sun Exposure and Soil Conditions
Not only is the Rosy Rocket Barberry colorful, it is incredibly easy to grow. Once established it is tough and drought-tolerant, so it is perfect for hot, dry spots in the garden. Always plant in full sun for the best foliage color, although the plant itself will grow well in partial shade. Any well-drained soil is fine with it, including sandy, rocky and poor soils, and clay, just avoid wet areas. Gardeners in the colder zones 4 and 5 will enjoy it too, because it is perfectly winter-hardy there, and brings lots of variety. As well, it doesn't have any significant pests and diseases; it has been tested by the US Dept of Agriculture and shown not to spread wheat-rust; and deer and rabbits leave it alone. It produces no viable seed, so it cannot spread, and it is safe to grow in every state.
History and Origin of the Rosy Rocket Barberry
The Japanese barberry, Berberis thunbergii, has been popular ever since it was brought from Japan in 1875 by plant collectors from the Arnold Arboretum in Boston. Then it was the flowers and berries that were attractive, since the leaves were green, but by the early 20th century forms with red leaves had been discovered in France, and in other countries. Europe has always been a place where this plant was appreciated, and it was there, in the Czech Republic, that Michal Andrusiv, from Litomyšl, bred the variety called 'Rosy Rocket'. In 1994 he took pollen from a variety called 'Helmond Pillar', which has red leaves and an upright habit, and he pollinated the variety 'Aurea', with a spreading habit and yellow leaves. From the seed he grew a batch of seedlings, and then selected the best and most interesting seedling, which he protected in Europe with Plant Breeder Rights in 2005 and patented in the USA in 2008. These rights have now expired.
Buying the Rosy Rocket Barberry at The Tree Center
The Rosy Red Barberry is produced for us from stem pieces, and you get exactly this variety, with all its special features. The demand for interesting but easy-care shrubs, that will grow almost anywhere, is always high, and this plant certainly fits that description. Order now while our stock lasts – it will soon be gone.
Invasive Plant Info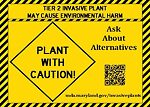 Although Japanese Barberry is quite popular throughout the US, it is found to be invasive in a number of states including our home state of MD. Although it can be bought and planted it should be planted with caution. it is listed as a tier-2 invasive plant in Maryland.