The way to grow a garden that is a pleasure, not a burden, is to fill it with easy-care, reliable plants, leaving just a few spots for some more special plants that might need a little more attention. The trick, though, is to make sure those easy plants are attractive, and not just boring blobs of green. Today's smart gardeners have discovered the value of colored foliage and pay less attention to blooms. After all, a couple of weeks of flowers may be great, but a season of colored foliage is a better investment. When it comes to choosing colorful plants for those hotter parts of the garden, the most useful single plant is without doubt the barberry. We have seen a big increase in the varieties of these tough plants, with reds, purples, golds and yellows appearing regularly. We haven't seen one as charming, though, as the Limoncello™ Barberry, whose yellow leaves are speckled and edged in red, making this plant a colorful choice for livening up your beds without taking on extra garden work.
The Limoncello Barberry is a rounded, deciduous shrub that grows 3 to 4 feet tall and wide, making it perfect for the front of larger beds, and the middle of smaller ones. It grows naturally into a dense, twiggy plant, full and broad right to the ground, with no trimming needed to keep it neat and compact. The stems have small thorns along them, making this an excellent plant for a low barrier hedge, or planting below windows, since both four and two legged intruders think twice before pushing through it. Young stems have leaves all along them, and on older stems the leaves are in clusters, which are close together on the stems. This gives the plant a dense, leafy look that really shows off the foliage.
The leaves of the Limoncello Barberry are up to 1 inch long, and a smooth, rounded oval shape. In spring the new foliage is a brilliant yellow, and the leaves have a fine edging of red, densest around the margin, becoming speckled and toned as it moves into the center of the leaf. This brilliant two-tone effect gives a depth and richness to the coloring that no single color can ever create. As summer arrives the leaves turn more chartreuse green, while the tips of the branches remain gold and red. Then in fall, with colder weather, there is a firework display of yellow, orange and red leaves, bringing you a powerful splash of color to end the season. You might see some small clusters of creamy-white flowers among the leaves in spring, and red berries in late fall once the leaves drop, but these are not significant features of this plant.
The Limoncello Barberry is a tough, reliable plant that is completely hardy in zone 4, and that also grows well in all warmer zones, except for humid parts of zones 8 and 9. Plant it as a single specimen in a small bed for a reliable all-season colorful addition. Grow it along the edge of a bigger bed, as a continuous edging, or mixed with other smaller shrubs. Plant it in groups of 3 or 5, or make a tough hedge, spacing plants 2 feet apart in a row. You can trim into a perfect even hedge if you want to, or leave it untrimmed for a more casual look. Grow it on slopes and banks, at the foot of walls, or on terracing. It is great too for planters, and colorful enough to grow alone, or surrounded by cascading plants.
When it comes to soil, have no worries, because this plant will grow happily even in poor soils, either sands or clays. It just needs to be well-drained, so don't plant in low-lying areas, or where water and ice build up in winter. The Limoncello Barberry loves the sun, which will bring out the richest leaf colors, but it will take a little shade for a few hours of the day. Hot, dry parts of the garden are perfect locations for it – just water regularly for the first season, while it becomes established. After that this plant is amazingly drought resistant, and free of pests or diseases too. Deer and rabbits leave it alone, so this plant is a true survivor.
Japanese barberry, Berberis thunbergii, was brought to America by collectors from the Arnold Arboretum in Boston, around 1875. It was an instant hit for its flowers and berries, and soon, here and in Europe, forms with red leaves were found. Its toughness has encourage plant breeders to develop more color forms, and today there are lots to choose from. With the trademark name of Limoncello™. the variety officially called 'BailErin' was bred by Don Selinger, a breeder with Bailey Nurseries, Inc. in Minnesota, a few years ago. This new plant has been released by the nursery as one of their First Editions® range of new, exciting varieties. We love the unique color patterns of the leaves, and its compact form, and we know it will be a great addition to your garden. Order now, because our stock is limited, and new varieties always sell out very quickly.
The sale of Japanese Barberry varieties that produce seeds is banned in Maine, New York State, and Minnesota. Other states have placed restrictions. Although we attempt to stay up to date on each states' Department of Agriculture regulations, rules can vary, and change rapidly. This link will show you the situation in your own state and remember that barberry is not a problem in many states. Check our site for non-seeding varieties of Barberry, as many are available. These are not restricted by most states, as they cannot spread.
Invasive Plant Info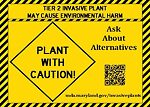 Although Japanese Barberry is quite popular throughout the US, it is found to be invasive in a number of states including our home state of MD. Although it can be bought and planted it should be planted with caution. it is listed as a tier-2 invasive plant in Maryland.