Choosing and planting attractive and unusual flowering shrubs and trees is the most important part of creating a great garden, but once they are in your beds, there are still a lot of empty spaces. To make a truly rich and complete garden, those spaces need filling – not with plants of the same size, since these will obscure each other, but with low-growing plants, to cover the areas between larger plants without hiding them. These ground-cover shrubs need to be easy to grow, but interesting, and using one's with colored foliage is an easy and effective way to add color to your garden as you fill the empty spaces. For a beautiful carpet of rich red, that will complement your plants effectively, and one that needs almost no care, don't pass by the Red Carpet Barberry – it's a real winner.
Growing Red Carpet Barberry Shrubs
The Red Carpet Barberry is a low but broad deciduous shrub, growing 12 to 18 inches tall, but spreading 3 to 4 feet wide. A few will cover a large area of your beds, because they can be spaced 2½ to 3 feet apart in each direction. That means that 12 plants easily cover 100 square feet of ground – compared to ground-cover perennials planted 1 foot apart, where you need 100 for the same space. This makes them a bargain too, as well as being long-lived and trouble-free. The branches are dense and spreading, preventing weeds from growing, and also creating a zone that is difficult for both 2-legged and 4-legged intruders to cross, since the stems have small spines at the base of the leaf clusters.   
The foliage of the Red Carpet Barberry comes out in spring with a bang, making a wonderful show of bright orange that will light up your garden, and look great mixed with purple-leaf shrubs, for example. As summer progresses the orange slowly darkens and becomes a rich burgundy, which is held right into fall, before the leaves drop. When that happens a surprise crop of red berries is revealed, adding a new color, until birds take them in winter – a valuable food for the native birds in your area. Those berries came from small yellow flowers nestled among the leaves in spring, which you may not have noticed.
Plant the Red Carpet Barberry in the foreground of your shrub beds, where it will add color and interest easily, from spring to fall. Use it around you home, in the foundation planting, where its low stature is perfect for spaces at the foot of deep windows, or in front of larger evergreen bushes. Plant it in those awkward spaces that seem to happen in beds, perhaps where plants didn't fill in as expected. Grow a row along the transition between a walkway or driveway and the rest of your garden. It is a great plant to grow among rocks, or to cover slopes, where its roots and dense branches will prevent soil erosion. It also grows well in planter boxes, where it will cover the area beneath a tree or taller shrub – or simply fill the box all by itself if you don't need a lot of height.
In all the zones from 4 to 8 the Red Carpet Barberry grows without winter damage, and tolerating heat, humidity and drought too. Incredibly easy to grow, it thrives in full sun, growing in any sunny location. It will tolerate a little shade, but too much will cause the foliage to turn greener in summer, and the growth could be weaker too. It grows in any soil, from sand to clay, and once established it is drought resistant for a long period, despite its small size. Acidic or alkaline soils are fine, but avoid wet areas, because good drainage is needed for healthy growth. This plant grows wide but stays low, and it can be clipped to maintain an even lower or neater profile, if required – you can trim it at any time of year at all.
History and Origins of Red Carpet Barberry Shrubs
The Japanese barberry, Berberis thunbergii, grows across the hills and open areas in many parts of China and Japan. Plant collectors from the Arnold Arboretum in Boston brought the first plants to America in 1875. These were upright, arching shrubs with green leaves, and they immediately became very popular, for their bright yellow flowers in spring, and the red berries in fall and winter, plus the fact that they were tough, cold-hardy, and easy to grow. Since that first introduction they have remained popular, with new varieties appearing, first with purple leaves in France at the beginning of the last century, and with many new forms being discovered since then. We don't know the origin of the variety called 'Red Carpet', but we do know it is incredibly popular, so our stock will not last long, and if you want to enjoy the benefits of this plant, you would be wise to order right away, while we still have stock.
The sale of Japanese Barberry varieties that produce seeds in banned in Maine, New York State, and Minnesota. Other states have placed restrictions. Although we attempt to stay up to date on each states' Department of Agriculture regulations, rules can vary, and change rapidly. This link will show you the situation in your own state and remember that barberry is not a problem in many states. Check our site for non-seeding varieties of Barberry, as many are available. These are not restricted by most states, as they cannot spread.
Invasive Plant Info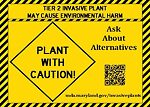 Although Japanese Barberry is quite popular throughout the US, it is found to be invasive in a number of states including our home state of MD. Although it can be bought and planted it should be planted with caution. it is listed as a tier-2 invasive plant in Maryland.