Many gardeners are already familiar with the barberry, a tough, handsome shrub that thrives almost anywhere, and brings valuable leaf colors to the garden. There are many different forms of this plant, and at The Tree Center we bring you the very best ones. Usually we think of this shrub as bushy and rounded, so the Helmond Pillar Barberry comes as a surprise. The narrow vertical form is something completely different among barberry, and with its rich foliage, this plant is a genuine stand-out in any garden – and easy to grow too.
The Helmond Pillar Barberry grows steadily into a narrow column of upright branches, reaching as much as 5 feet tall, but remaining 1 foot, or at most 2 feet, wide. The many branches that grow from the base are completely vertical, and this plant retains its narrow form without the need for any trimming at all. These stems are dark reddish-brown in color, and so are the leaves, so that the whole effect is of a bold vertical pillar of deep reddish-purple. The stems have small, sharp spines along their length, at the base of the leaf clusters. The leaves vary in size from ½ inch to 2 ¼ inches in length, and they are round to oval, clustering closely to the stems and keeping the whole plant neat. Their deep red coloring is pronounced not just in spring, but all through summer too, and then in fall this exciting plant adds to the glories of that season by turning shades of vibrant bright scarlet.
In April and May you may notice small, bright-yellow flowers clustered at the bases of the leaves, along the stems, and these develop into bright red berries that suddenly become visible when the leaves fall. They persist for some time, bringing a cheerful 'wintery' look, before they are taken by birds as valuable winter food.
Growing Helmond Barberrry Shrubs
The Helmond Pillar Barberry can be planted as a colorful vertical accent plant in shrub beds, either alone or in groups. Often, when we develop mixed shrub beds, awkward narrow spaces develop, because plants did not quite reach the size we expected them to. Slipping a narrow, upright plant into that space is the ideal solution, and the Helmond Pillar Barberry is perfect for that. Plant it among shrubs with contrasting foliage or form, such as golden or silver leaves, and with broad shapes, or slender, waving forms like ornamental grasses.
Many gardeners take advantage of the spines on barberry to create security barriers, and when planted beneath a window it is an effective deterrent to anyone. Often there isn't room in beds to do this, so the narrow form of this shrub solves that problem too. Planted 12 inches apart these plants also make a very effective slender but dense screen, which will keep out both 2-legged and 4-legged intruders into your garden, without taking up precious room. This shrub would also be useful for height in smaller planter boxes and large tubs, surrounded by dwarf shrubs or flowers.
Planting and Initial Care
The Helmond Pillar Barberry is a tough, drought-resistant plant that should be planted in full sun for the best foliage coloring. If there is too much shade the leaves will become more greenish. It will grow in any well-drained soil, including poor soils, and it is hardy throughout zone 4, making this plant a great garden-choice for colder areas. It is also tough and reliable in hot zones and tolerates heat and dryness well. It rarely has any significant pests and diseases, deer and rabbits leave it alone, and it is one of the easiest plants to grow in any garden.
History and Origins of the Helmond Pillar Barberry
Japanese barberry, Berberis thunbergii, was a big hit in American gardens as soon as it was brought back from Japan in 1875. Seed was collected by explorers from the Arnold Arboretum in Boston. The original shrub was green, but the yellow flowers and red berries made it very popular, as well as being easy to grow. It was popular in Europe too, and by the early 20th century forms with purple leaves had been discovered among seedlings grown in nurseries. There have been many varieties discovered since then, although the origin of the variety called 'Helmond Pillar' has been lost. With its strikingly different form – most other varieties are broad and spreading – it is a great addition to the range of barberry we can use in our gardens. Unusual varieties like this are always the first to be chosen by our clients, so order now, as our stock will be gone very soon.
Invasive Plant Info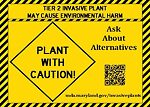 Although Japanese Barberry is quite popular throughout the US, it is found to be invasive in a number of states including our home state of MD. Although it can be bought and planted it should be planted with caution. it is listed as a tier-2 invasive plant in Maryland.