Golden Ruby Barberry
Berberis thunbergii 'Goruzam' (PP# 16,203)
This product does not ship to AK, CA, HI, PR, WA
Golden Ruby Barberry
Berberis thunbergii 'Goruzam' (PP# 16,203)
How are the heights measured?
All tree, and nothin' but the tree! We measure from the top of the soil to the top of the tree; the height of the container or the root system is never included in our measurements.
What is a gallon container?
Nursery containers come in a variety of different sizes, and old-school nursery slang has stuck. While the industry-standard terminology is to call the sizes "Gallon Containers", that doesn't exactly translate to the traditional liquid "gallon" size we think of. You'll find we carry young 1-gallons, up to more mature 7-gallons ranging anywhere from 6 inches to 6ft.
How does the delivery process work?
All of our orders ship via FedEx Ground! Once your order is placed online, our magic elves get right to work picking, staging, boxing and shipping your trees. Orders typically ship out within 2 business days. You will receive email notifications along the way on the progress of your order, as well as tracking information to track your plants all the way to their new home!
Why are some states excluded from shipping?
The short & sweet answer is: "United States Department of Agriculture Restrictions." Every state has their own unique USDA restrictions on which plants they allow to come into their state. While we wish we could serve everyone, it's for the safety of native species and helps prevent the spread of invasive disease & pests. We've gotta protect good ole' Mother Nature, after all.
About Me
-
The Golden Ruby® Barberry is a wonderful dwarf deciduous shrub around 18 inches tall and over 2 feet wide. It has vigorous growth with many short stems, so it soon becomes a dense mound that is ideal for accents and edging. The spring leaves are beautiful orange-red tones, and as they mature they turn darker red and develop a yellow edge around the leaf. In fall they turn vibrant orange to brick-red tones. This variety has very few flowers and no seeds are produced, so it can be grown anywhere, with zero potential to become invasive.
Top-notch dwarf barberry for edging and the front of beds
Bright orange-red spring leaves turn darker red for summer
Golden-yellow edging develops as the leaves mature
Bright orange to brick-red fall colors
Safe, no-seeding variety can be grown anywhere
Full sun will bring out the best leaf colors from the Golden Ruby® Barberry, and keep it compact and tough. It grows readily in any well-drained soil, including tough soils like urban gardens, sands, gravels and clay as well. It is reliably hardy in the coldest places and tolerates drought once it is well established. Hard to kill, it has no significant pests or diseases, and deer leave it alone.
*This variety produces little or no viable seed, so it cannot become invasive. It is safe to grow even where Berberis is restricted.
Plant Hardiness Zones 3-8

Mature Width 2-3

Mature Height 1-2

Sun Needs Full Sun
*This variety produces little or no viable seed, so it cannot become invasive. It is safe to grow even where Berberis is restricted.
There is no doubt that the modern barberry is light-years away from the original. From a tall, spiny green bush with yellow flowers and red berries that have a nasty habit of spreading around the neighborhood, we have moved to compact colorful bushes in a whole range of leaf colors, from purple to pale yellow. Plus, most modern forms produce no seeds, so they can't spread. We used to clip them regularly for low edging, but the best of today's plants are vigorous but naturally dwarf, so clipping is hardly ever needed. For the perfect modern, non-seeding variety, look no further than the Golden Ruby® Barberry – actually, it's so colorful and eye-catching you won't be able to look further. This natural dwarf is perfect for filling small spaces and ideal for a bright edging. We do mean bright, because this little charmer combines orange leaves in spring with red and gold summer foliage, ending with a fall splash of vibrant orange and brick-red. Talk about a little winner!
Growing the Golden Ruby® Barberry
Size and Appearance
The Golden Ruby® Barberry is a dwarf deciduous shrub that typically grows 15 to 18 inches tall, but could become a little taller in time. It spreads wider, reaching as much as 30 inches across. It has vigorous growth, but the spaces between the leaves on the stem are very short, so it grows densely, with short, bushy shoots. This means it stays short and only rarely needs trimming. The smooth, rounded leaves are up to an inch long, and when new in spring they are a glowing orange-red, darkening to a deeper red as they mature. As summer develops an interesting thing happens. A thin line of pale yellow begins to appear around the edges of the leaves, widening with time, so that by the end of summer the bush has a pronounced variegated look, with dark red leaves and golden edges. Then, with the colder weather of fall the color changes again, becoming bright orange to brick-red and making a colorful splash before the garden goes to sleep.
In spring, among the new leaves, you might see a few clusters of small bright-yellow flowers, but these do not form the usual berries, and no seeds are produced. That means this plant is safe to grow anywhere, and cannot escape your garden to become a problem plant in wild areas.
Using the Golden Ruby® Barberry in Your Garden
For adding a colorful edging to your beds this plant is ideal, It can be spaced 12 to 18 inches apart and it will give a solid line within a few years. Little or no trimming will be needed for it to stay small and always attractive. You can also grow it tucked into pockets among rocks, or on the levels of retaining walls. Plant it alone or in clusters among other small shrubs, or use it in planter boxes and pots – it will look great everywhere in your garden.
Hardiness
Despite its small size the Golden Ruby Barberry is reliably hardy even in zone 3, and it grows well through all other zones, including zone 8.
Sun Exposure and Soil Conditions
Full sun is needed to keep the colors bright, but it will grow in some light partial shade, looking a little more greenish. It grows vigorously in all well-drained soils, including tough urban soils, clays and gravels, and just about anywhere that isn't always wet. It resists salt spray and urban air pollution too, so its ideal for inner city gardens.
Maintenance and Pruning
Pests, diseases and deer all leave this tough shrub alone, and it needs virtually no attention to do its thing superbly. It stays naturally dwarf, but a light trim in early spring, before the new leaves appear, will keep it always immaculate.
History and Origin of the Golden Ruby® Barberry
Japanese barberry, Berberis thunbergii, is a shrub that is native to Japan and China. The Arnold Arboretum, Boston, introduced into America in 1875, and although those early forms had green leaves, it very soon became popular in gardens. It wasn't long before seedlings with purple leaves were found, and in 1942 the Van Eyck Nursery, in Boskoop, the Netherlands, found one that was also small, the variety we know as 'Atropurpurea Nana'.
Moving forward, James Zampini was a prominent nurseryman and breeder who owned Lake County Nursery, in Perry, Ohio. A neighboring nurseryman, Nicholas Moretti, found a dwarf variety with golden yellow leaves in 1971, and he passed it on to Mr. Zampini, who patented it as 'Bogozam' and sold it as the Bonanza Gold® Barberry. Since the patent expired in 2013 it can also be found with the name, Golden Treasure™. In 1978 Mr. Zampini used pollen from Bonanza Gold on a plant of 'Atropurpurea Nana', and among the seedlings he found something special. He eventually patented his find in 2008, after years of trials and testing, as 'Goruzam'. Today it is made available by his daughter, Maria, as a Lake County Nursery Selection, with the trademarked name of Golden Ruby®.
Buying the Golden Ruby® Barberry at the Tree Center
Every one of these great little plants is reproduced from small stem pieces, so it is 100% identical to that original seedling. These kinds of unique plants can never be grown from seeds – and of course this one doesn't even produce them. Everyone wants to grow colorful barberry bushes, for their all-season color and toughness, so order your plants now, because they will all be gone very soon.
Invasive Plant Info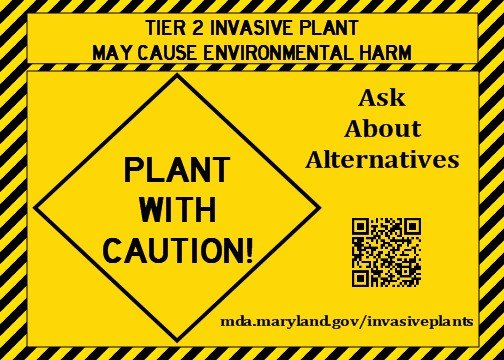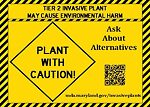 Although Japanese Barberry is quite popular throughout the US, it is found to be invasive in a number of states including our home state of MD. Although it can be bought and planted it should be planted with caution. it is listed as a tier-2 invasive plant in Maryland.
Back to top
Golden Ruby Barberry
Berberis thunbergii 'Goruzam' (PP# 16,203)