Every garden needs tough, reliable and trouble-free shrubs. These fill spaces and create the easy-care framework for your garden. You can then add specimens and highlight plants that might need a little more care, without becoming overwhelmed with garden work. If there is one plant where the adjectives, 'tough', 'reliable and 'easy-care' apply, it is the Fire Ball® Burning Bush. This improved version of a garden staple grown across the country has absolutely spectacular red fall colors. It is more compact than older forms, needing less or no trimming, and it is completely winter hardy in zone 4, so you will see none of the annoying die-back that damages many other forms of this plant, especially the common dwarf burning bush. If you are just starting a garden, or want to round out an existing one, a reliable shrub like this is exactly what you need.
Growing the Fire Ball® Burning Bush
Size and Appearance
The Fire Ball Burning Bush is a hardy deciduous shrub that grows into a multi-stemmed plant with a dense, rounded form made up of many stems and branches. It will grow to a height and width of between 5 and 7 feet, which is significantly smaller than most other forms of this plant. These older varieties can become too large and need lots of trimming. The stems are attractive in winter, with a unique form. Along the sides of the younger branches are 'wings' – long narrow ridges of bark that give the stems a square look and an attractive visual appeal. The leaves are around 2 inches long, oval, with very fine serrations along the edges. They tend to curl into a soft arc, adding to the neat, compact form of this plant. They are rich green in spring and summer, giving a cool effect in your garden.
Then, in fall, the party begins. This specially-selected variety puts on an amazing fall performance, turning quite literally into a glowing fire-ball of bright red you will absolutely love. This display lasts for several weeks, before the leaves fall, revealing the interesting twig pattern and stem structure for the winter months. Older bushes may produce small greenish flowers, about ¼ inch across, which turn into a greenish-purple 4-chamber seed pod containing red seeds. The flowers and seed-pods are not conspicuous, and this variety does not produce very many flowers or seeds.
Using the Fire Ball® Burning Bush in Your Garden
This easy-care shrub is perfect for background planting in your shrub beds, where it will be attractive at a time when most other plants are finished for the season. Use it to fill corners around your home as part of the foundation planting, or standing out on a lawn, alone, or in a well-spaced group of 3 or 5 on a large lawn. Plant it for screening in a row, or as a hedge, spacing plants 4 feet apart. It can be trimmed at any time, but it is neat enough to make a good screen without trimming. Grow it along the edges of a stream or by a pond. Whenever you need a space filled – this is the simple and yet attractive choice to make.
Hardiness
Some forms of the burning bush are damaged in colder zones, leaving dead branches that must then be removed, and spoiling the form of the plant. The Fire Ball Burning Bush has been developed with hardiness in mind, so it doesn't suffer from any winter-kill, even in zone 4. It is entirely reliable in the midwest, yet it also grows well almost anywhere, all the way into zone 8.
Sun Exposure and Soil Conditions
Although this shrub will grow in partial shade, we recommend you plant it in full sun, as this will give the best fall color, which is the main feature of the Fire Ball Burning Bush. In shadier spots the leaves will stay green into fall, sometimes turning pink, or sometimes dropping before they color at all. This plant will grow easily and vigorously in just about any kind of soil except for very wet ones. Poor soil, clay, gravels, urban soil and construction waste – this is a plant that can cope with just about anything. It will also grow near a black walnut tree, which is known for making it impossible for many plants to grow. Often the fall color will be best in drier conditions, but some watering during hot, dry periods is valuable, especially until it becomes well established.
Maintenance and Pruning
The Fire Ball Burning Bush normally has no pests or diseases. It can be trimmed at any time, if you wish. Some shortening of the branches when the plant is young will help develop a denser form, but this variety is naturally dense and rounded, and only needs trimming if you want a formal look, or a tight, neat hedge.
History and Origin of the Fire Ball® Burning Bush
The burning bush, Euonymus alatus, grows wild in forests and woodlands all through China, Korea, eastern Russia, and on the islands of Japan. It can grow to 15 feet tall, or even a little more, forming a small tree. Along with many other Asian trees and shrubs it was introduced after trade began between the US, China and Japan. It first appeared in America around 1860, and it became very popular for its fall color and toughness. At some point a more compact form was found, which is called 'Compactus', growing to about 10 feet. However, this plant is not as cold-resistant as many other forms, and often suffers winter damage in cold zones. So further selection of seedlings grown from seed from 'Compactus' was done, until a very hardy, smaller plant with outstanding fall color was found. It became known as 'Select', and this is the plant trademarked as Fire Ball®.
Buying the Fire Ball® Burning Bush at The Tree Center
We love the amazing color of this tree, and its super-easy growing. Every garden has a place for the Fire Ball Burning Bush, and this superior form is always in high demand. Order now, because we cannot guarantee to have these plants in stock for long.
Invasive Plant Info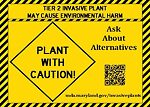 Although Burning Bush is quite popular throughout the US, it is found to be invasive in a number of states including our home state of MD. Although it can be bought and planted it should be planted with caution. it is listed as a tier-2 invasive plant in Maryland.