Fall color is, literally, one of the highlights of the gardening year and is extremely eye-catching. However, most colorful trees are large, and they cannot easily fit into an average garden, especially a smaller one. Smaller shrubs with good, red fall color are valuable additions, especially if, like the Dwarf Burning Bush, they are also extremely easy to grow, trouble-free, and yet spectacularly beautiful. Each fall this bush will become a beacon of scarlet in the garden, more beautiful than any flowering plant, and as colorful for as long as almost any flowering tree or shrub.
Dwarf Burning Bush forms a broad, rounded shrub 6 to 10 feet tall, and the same across, although it can easily be trimmed to a much smaller size. It has dense, upright branches with small, smooth leaves 2 or 3 inches long. These are rich green from spring to fall, making an attractive backdrop in the garden. When the cooler nights arrive, they turn extraordinary shades of bright red, giving the plant its common name, and really looking like it is on fire. It is an extremely hardy plant, surviving cold and drought, and thriving in almost any garden soil type except wet ones. It has no significant pests or diseases, and it is on every list of deer resistant shrubs and trees. It is also very hardy, surviving temperatures down to minus 30 without any problems.
Growing Dwarf Compact Burning Bushes
If you want a garden that is easy to care for, or if you have a larger garden but only limited time available for it, then it is important to create a backbone of plants that need little or no attention to perform well. Dwarf Burning Bush is just the plant you need for that. It truly is a 'plant and forget' choice, that after a little water to become established will grow happily with no input from you, yet always look attractive.
Uses on Your Property
Use it as part of the background planting in your garden. Tuck it into the sunny angle between two walls of your house. Use it as an informal low screen or hedge to separate one part of the garden from another, or your garden from a neighbor's. It needs no trimming to stay neat and tidy, but it can also be trimmed into a perfect, dense hedge with just a couple of cuts a year. The hedge can be as low as 3 feet, or as tall as 8 feet, and since this plant is fast growing, you won't have long to wait even for the taller hedge or screen.
Soil Conditions and Sun Exposure
Plant your Dwarf Burning Bush in any garden soil that does not stay constantly wet. From sand to clay, this is a plant that will thrive anywhere. Choose a sunny spot for the best fall colors, although the plant itself will grow well in partial shade too. When grown in shade the leaves will turn attractive shades of pink, rather than scarlet-red.
Using as a Hedge or Screen
If you want a hedge or screen, space the plants 3 or 4 feet apart in a row. A light trimming in early spring, before the new leaves appear, will make for a very dense screen, but even if you never trim at all the plants will be dense and sturdy. For a super-neat hedge, a second trimming in summer is all you need. Always trim the sides of a hedge so that they slop inwards slightly. This will allow plenty of light to the lower branches, and keep your hedge dense right to the ground.
Care and Maintenance
The Dwarf Burning Bush is drought resistant once it is established in your garden. It has no significant pests or diseases and it is usually not eaten by deer. This really is a low-maintenance plant that can be used in many different parts of your garden to good effect. It will create the background, so that you can put the time you have into spring and summer plants that may take a little more care – or just use the time you save for something else entirely. This is the perfect garden shrub for non-gardeners.
History and Origins of the Burning Bush
The Burning Bush (Euonymus alatus) or "Winged Euonymus" is a native tree from China and Japan that has been grown in gardens for a very long time. Although attractive, it can become large and very broad, needing a lot of pruning to fit into a smaller garden. So sometime around 1926, J.W. Adams, from Springfield, Massachusetts, introduced a smaller form and this plant, called 'Compactus' because of its small size, has become much more widely grown in North America than the original tree.
The Compactus variety can easily be trimmed to below 4 feet tall, and even untrimmed it will never grow much above 8 feet tall. It has the same spectacular coloring as its parent, and since it rarely flowers or produces seed, it does not escape into the surrounding countryside. Cheaper seedling trees can spread and become weeds, so it always pays to get this better, more compact form for your garden.
Invasive Plant Info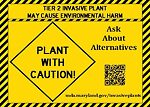 Although Burning Bush is quite popular throughout the US, it is found to be invasive species in a number of states including our home state of MD. Although it can be bought and planted it should be planted with caution. it is listed as a tier-2 invasive plant in Maryland.