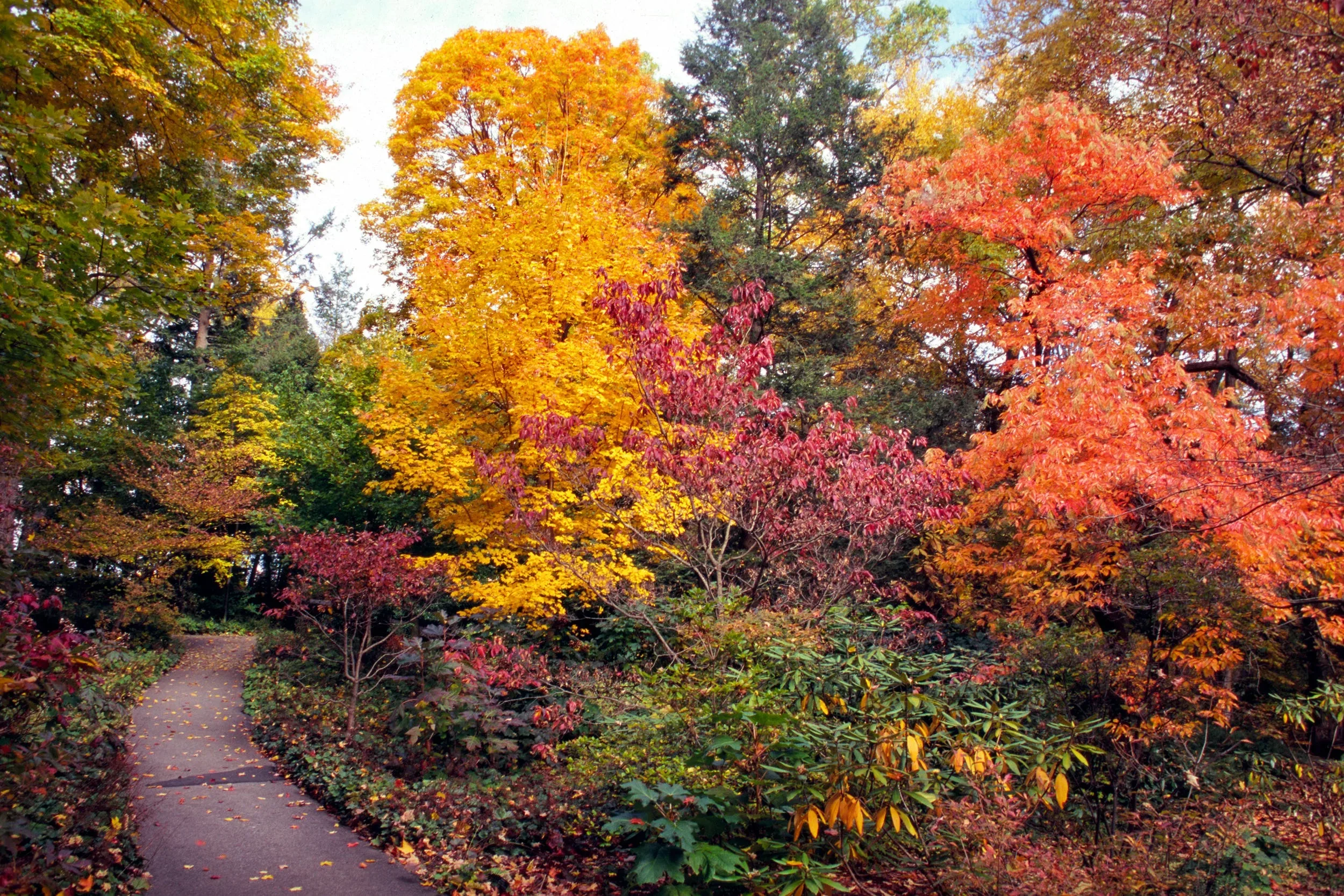 Written by davethetreecenters • October 05 October in the Garden
In cooler zones the mosquitoes are gone, trees are ablaze with color, and with luck there will be an Indian summer. In warmer areas the warmth may linger, but nights will be cooling, and the humidity falling. Wherever you live October is one of the best months of the year for being outdoors – at least on days when it isn't raining. It is also an important month for organizing, planting and planning ahead. Let's look at some things you can be doing in your garden this month.
What to Do in the Garden in October
Plant deciduous trees and shrubs – the warm, damp soil is perfect for them
Add more fall color – you can never have too much
Spread rich mulch around – it's the perfect time to clear your compost bins
Recycle those leaves – an easy thing if you have a mulcher attachment on your blower
Cut the grass – short grass, free of leaves and debris, survives winter best
Plant Trees and Deciduous Shrubs
Although the 'gardening gene' is at its strongest in spring, October is by far the best month of the year for planting, especially deciduous trees and shrubs. Tree roots are adapted to grow at cooler temperatures, and the left-over heat of summer keeps the soil warm as the air temperatures are falling. After fall rain the ground is moist too, and this all makes for ideal conditions for root development. Then, when spring comes your bushes are well-established, and can get on with the business of growing above ground.
There are often bargains and special-offers to be had too, so this is definitely the time to be shopping (on the rainy days) and planting (on the sunny ones). Above zone 5 you can plant evergreens at this time too, but if foliage burn is an issue in your area you might want to delay that until spring, for anything that isn't very reliable (Junipers, for instance, rarely burn in winter, so they can safely be planted at this time).
Think about Fall Color
The magnificence of fall comes from the trees, and there are always trees that will turn delicious shades of red and gold, no matter where you live. In warmer areas the peak might be November and even December, but if you look around and see your garden looking drab compared to others, think about planting some trees that will change that. In smaller gardens there are lots of shrubs – Viburnum for example – that will put on a great fall show without needing more room than you have available.
Strategic placement of the color is important too. Eyeball your garden to spot the places where a colorful tree or shrub will stand out. Since you might be spending less time outdoors, views from your windows are important, so placing something like a red maple where it is seen from the kitchen is obvious, even if not often thought about. Try to spread the color around, creating vistas and focal points instead of just the obvious 'tree on lawn' approach.
Improve the Soil in Your Garden
Some of us are lucky enough to garden on that 'deep, rich loam' that every plant loves. For everyone else, building better soil is the key to having the best possible garden. Do you have compost bins? If you don't, this is a great month to set some up, and start making your own 'black magic' with the leaves and trimming from your fall cleanup. We have a two-part blog on making perfect compost, here and here, which will give you all the details you need. Even in a small garden it is worthwhile, especially as you can dispose of kitchen waste in it too.
It is always best to mix rich organic material into the soil when making beds or planting, but after that you can rely on top-dressing, which is a lot less work! Simply spread a layer of compost, manure, rotted leaves, or whatever you have, about 2 inches deep around your plants. Some people worry about weed-seeds in compost, but if you follow our tips on making it, enough heat will be generated inside the bins to kill weed seeds and disease organisms too. Keep mulch clear of the stems and foliage and cover a wide area, at least as wide as the branch spread. This will keep down weeds too, and it is so much better than using landscape fabric and inert mulch like gravel or bark. October is a good month to do this, and you can even cover the fallen leaves.
Speaking of Leaves. . .
It is amazing how many people throw away the bounty their trees deliver every fall – the leaves. Try to recycle leaves on your own property if you can, and for this a blower with a mulcher attachment is perfect. You can blow your leaves into rows on the lawn, and then suck them up with a shredder/mulcher. Simply empty the shredded leaves onto your beds – alone or mixed with compost. It's the perfect weed-free mulch, feeding your plants and improving your soil as it breaks down.
Care for Your Lawn
As for leaves on the lawn, there is an idea among some people that leaving them all winter will 'protect your lawn'. Nothing could be further from true. Leaves left on the lawn, even for a short time, weaken and then kill the grass. Regular removal over the fall means avoiding that giant clean up, and helps your lawn thrive.
For the best lawn in spring, remove all the leaves and then mow shorter than you usually do for the last cut of the season. Rake hard, removing debris and matted grass. Fertilize with a fall lawn food. These contain nitrogen that won't be released until warm spring weather arrives, meaning your lawn will green-up quickly and need no special attention in that busy season. A short, open lawn will overwinter best, with less chance of disease, keeping that all-important feature of your garden in top condition.
Most important of all, enjoy the invigorating fall weather, and leave your garden in tidy and in good condition for the winter months – especially if you garden in the north. Southern gardeners can delay most of these jobs for a month, or even into the weeks leading to the holiday season. Wherever you are though, enjoy your garden to the max.
***If you want to check the availability of any of the plants mentioned here, go to our Home Page, click on the 'Search' button in the upper right, and type in your choice – both common names and botanical ones will work. If, sadly, you find the item sold out, click on the 'notify me' box beside the size you want, and you will get an email the moment that plant is available again – it's easy.