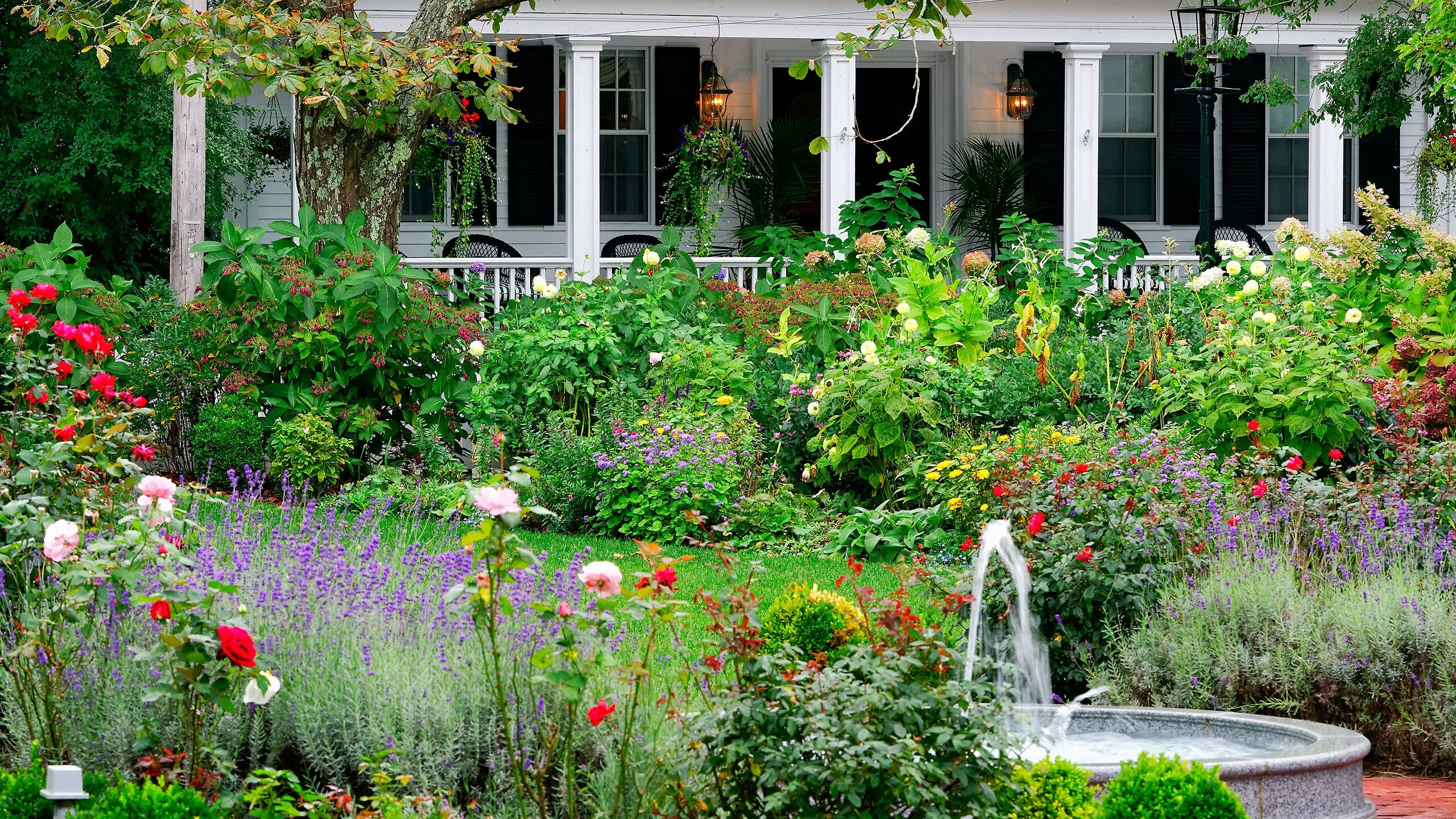 Written by davethetreecenters • May 23 10 Fragrant Flowers and Plants to Fill Your Garden with Perfume
10 Fragrant Flowers that Should be in Your Garden
Bee Balm – Monarda
The whole plant smells of citrus and something else mysterious, while the red flowers brighten summer. Grows well in wet soil.
Catmint – Nepeta
When the sun hits the sparkling gray-green foliage, it releases a magical musky aroma. The blue flowers are long-lived and simply gorgeous.
Daylily – Hemerocallis
Too well-known to need describing, if you pick your varieties wisely, they will smell delicious as well as look amazing.
Garden Phlox – Phlox paniculata
A cottage garden favorite, now available free of powdery mildew, but still releasing their delicious fragrance into the summer air.
Garden Pinks – Dianthus
Spring is not complete without these gorgeous low-growing mounds, studded with jewel-like flowers of pungent, rich, clove-like fragrance.
Hosta plantaginea 'Royal standard'
Most Hosta flowers have no smell, but choose this one – or its relatives – and enjoy lily-like scent from everyone's favorite shade ground-cover.
Lavender – Lavendula
The scent of Provence, right outside your door. Nothing matches lavender to trigger nostalgia of the nose. Sprinkle the flowers right in your bath for unrivalled decadence.
Peony – Paeonia
Old-fashioned, perhaps, but still growing strong, most peonies are fragrant, but some more than others.
Roses
Once it seemed every rose was fragrant, but today you have to pick wisely to capture that classic and wonderful scent. We can help.
Russian Sage – Perovskia
This big, bold plant may be mostly grown for its silver, lacy leaves and vibrant blue flowers, but stand nearby, or rub the leaves, and you will discover it has another dimension – the smell of wilderness.
Grow a Fragrant Garden
Most of the advice on creating a beautiful garden – including the blog posts on this site – focuses on structure, form and color. We talk about combining plants of different shapes in harmonious ways, using colored foliage for season-long effect, and how to blend and contrast color. The emphasis is on visuals, although we might also add some sound, with rustling grasses and fluttering leaves. We don't pay much attention to our other senses, yet plants are fantastic for the forgotten sense – smell.
They say that smell it unlike our other senses – it plugs directly into our emotional and memory centers, so smells fill us with reminiscence and dreamy thoughts. Adding the dimension of smell to your garden planning means you add another layer of sensory experience to your garden. You make it a richer and more rewarding place to be in, and that has got to be a good thing.
You don't often have to sacrifice the look of your garden for scent – most scented plants are also beautiful – and often it is just a matter of adding 'fragrant' to your considerations when choosing what plants to grow. So here are our 10 most-favorite scented flowering plants – almost all of them are hardy perennials – that you can choose, and bring the wonderful world of scent to your garden beds. Check our list, and read on for more details.
Bee Balm – Monarda
With newer varieties like 'Pardon My Pink' and 'Pardon My Cerise', forget about those older, rambunctious Bee Balm plants that took over your garden after a few years. Modern varieties are smaller – under 18 inches – and stay pretty much where you put them. Yet they still have the same wonderful fragrance – pick leaves and enjoy your own 'Earl Gray' tea. The flowers still attract bees and butterflies, while brightening your beds all through the early months of summer. Grow best in rich, moist soils.
Catmint – Nepeta
One of the very best mounding plants to finish the front of your beds, the combination of gray leaves and blue flowers is the perfect powerful neutral to go with any other flowers. Blooming for months, and available in different sizes, they thrive in sun and take drier soil, although richer ground that is well-drained will give the best results. On hot days the tangy scent fills the air, and they are a joy to work around when doing garden chores.
Daylily – Hemerocallis
Summer wouldn't be summer without Daylilies, and modern varieties bloom at least twice, not just once. All of them are scented to some extent, but check out 'Big Time Happy', 'Going Bananas', 'Pardon Me', and 'Sunday Gloves' for that extra fillip of intense fragrance. No wonder hummingbirds love them. You simply can't have too many daylilies in your garden, they are so easy to grow, and deliver so much for such small an effort.
Garden Phlox – Phlox paniculata
No cottage garden should be without phlox, and they are all amazingly fragrant, with white varieties often best of all. If you want the full summer experience in your garden, you need Phlox paniculata. Grow them in sun, or in a little afternoon shade, in rich, moist soil – they don't like too much dryness.
Sadly Moss Phlox, Phlox subulata, are not noticeable fragrant, but they are fabulous and easy for spring, along with the next plant on this list – Garden Pinks.
Garden Pinks – Dianthus
With a powerful perfume that has been admired and coveted since the earliest days of gardening – People like Queen Elizabeth I and Walter Raleigh dropped the flowers into sweet wine – Garden Pinks are what spring is all about. Forming terrific dense blue-green cushions that look almost like spreading junipers, spring – and fall too sometimes – brings a carpet of jewel-like flowers in pinks, reds, and white, often bicolor and occasionally double – that you can smell long before you even bend down to them. The powerful fragrance of clove-scented carnations will fill your head with wonder..
Hosta plantaginea 'Royal Standard'
Most Hosta are grown for their amazing foliage and ability to grow in shade, but the white trumpet-flowers of the Royal Standard Hosta are among the very few that are fragrant – reminiscent of true lilies. This plant, and others with similar parentage, have the other great advantage of growing well in warm climates. See this detailed blog on why others won't grow in hot zones, and which ones will – including this one. Blooms best in warm zones and is very late blooming in cold areas, but still absolutely worth growing everywhere.
Lavender – Lavendula
Probably the scent most easily identified by most people, lavender continues to be a perennial favorite through the generations. It's a great plant for the garden, too, thriving in really hot and dry places, and blooming for months. Even after the blooms are over, the silvery leaves still have that classic fragrance. Easily grown as a low hedge or edging, check out our selection to choose the varieties best-suited to your area – they vary a lot, and making the right choice is the key to success.
Peony – Paeonia
All peonies smell delicious, with whites and pinks being more strongly fragrant that reds, or those charming but rarely-grown singles. The idea that whites are more fragrant is common across many plants, although it isn't clear why that would be. Old gardeners knew that the first flowers to plant in a new garden are peonies, which do take a few seasons to get to full glory. Once they do it really is 'glory', which nothing else beating the look of a bed of peonies in bloom.
It used to be that all roses were richly fragrant. Then breeders lost it, by concentrating on looks. No more and more roses are coming back with beautiful scents. It's hard to say which to go for, because our range is constantly changing, but browse our current selection – if they are fragrant it is always clearly indicated. Whether you are going to bury your face in the bush, or cut some for a vase indoors, everyone loves to wake up and smell the roses.
Russian Sage – Perovskia One of those plants that are often in the 'what is that amazing plant?' category, Russian Sage is finally getting the attention it deserves. Great for xeric or low-water gardens, along with lavender, the silver, lacy leaves release more of their pungent aroma when the thermometer rises. The spikes of bold blue flowers are great too. For a more compact version, with super-lacy leaves, check our the variety called 'Denim N Lace'. For more details on these plants, take a look at this blog post dedicated to them.