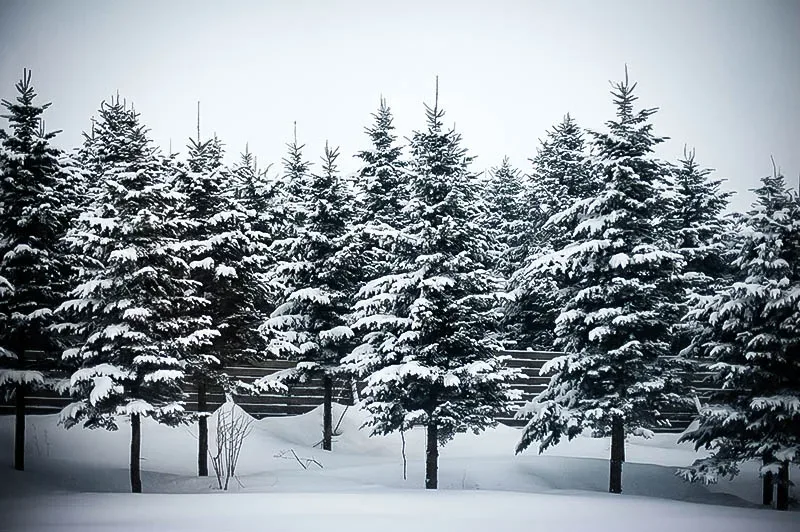 Written by davethetreecenters • September 19 Trees For Cold States
Those who live in colder parts of the country may look in envy at the flowering trees and exotic shrubs in the gardens of their southern neighbors, but they do have a good range of beautiful and hardy trees to choose from. When it comes to fall color, for example, nothing can surpass the north. Both the trees and the effect of colder climates create a spectacle that brings visitors from across the world to admire it. Evergreens as well relish the cooler, damper summers and grow to towering heights or into beautiful dwarfs, depending on their type. So there is plenty to be proud of if you grow trees in the north and plenty of choices too, even if some colorful exotics are out of reach.
Zones 3 and 4 are the coldest parts of the country, where temperatures can fall to minus 30 in zone 4 and minus 40 in zone 3. Remember that only the true air-temperature has an effect on trees; wind-chill temperatures only apply to warm-blooded creatures. So when browsing our web-site here at the Tree Center, just check next to the map to see the lowest zone we think you can safely plant in to be sure that winter will not affect your tree.
Shade Trees
For many homeowners, choosing a shade tree for the yard is a top priority. Since a few years must pass before your tree throws enough shade for that barbeque party, or just a beer in the shade on a hot day, this is often the first thing planted in the garden of a new home. Here there are lots of hardy choices whose spreading branches will grace your property and bring interest with each passing season.
Maple Trees
These marvelous trees must be the go-to when it comes to choosing a shade tree for a cold climate. The top two natural choices – and we do mean natural, since these are both native trees – are the Sugar Maple (Acer saccharum) and the American, or Red Maple (Acer rubrum). Both are hardy to at least minus 30 and even to minus 40, so the chill of winter will not bother them. Both have spectacular color in fall, with Sugar Maple being more golden and glowing, while the Red Maple becomes a fiery beacon. For something a little different, plant the Autumn Blaze Maple (Acer x freemanii 'Jeffsred') which is vigorous and a fast growing tree too. It will leap up three feet a year when young and has a more upright profile, so it takes up a little less space, while still throwing good shade. Its fall coloring of golds and reds is often considered to surpass even the Sugar Maple.
If you are thinking of a maple tree, but have a smaller garden, then head to northern China and plant the Amur Maple, a native of a very different cold climate, that thrives even in the bone-chilling minus 50 of zone 2. Our Flame Amur Maple is a special selection with improved fall color, but this plant is just a tidy 15 to 20 feet tall – perfect for the modern small garden or in a courtyard. Its bare winter branches are adorned with attractive red maple-keys, adding to the interest of this charming and under-planted tree.
Oak Trees
Another great choice for shade is an oak tree, which will live for centuries and bring shade to your ancestors as well as you. The best choice for colder regions is the Red Oak (Quercus rubra), another native tree that is ablaze with color every fall.
Birch Trees
If your garden is small, you may not have room for a forest giant, but even a small garden can accommodate a River Birch (Betula nigra), whose rapid growth and graceful charm fits perfectly into a smaller space. If you are thinking long-term, then this tree is great to provide cover while slower but longer-lived trees develop. Eventually the birch can be taken down (great firewood!) and the other trees left in their full glory.
Evergreens
Evergreen conifers are the kings of the north, as full-sized beauties with rich green needles or spectacular blue ones, or miniatures that look just perfect beside the house. As windbreaks and privacy screens they are ideal – tough as nails, great for catching drifting snow and dense all year for permanent privacy. A row of evergreen trees along the north side of your property will create a sheltered space behind where you can experiment with more tender plants like Bloodgood Japanese Maple, or Nikko Blue Hydrangea.
Spruce Trees
Great screening choices are Norway Spruce (Picea abies) or White Spruce (Picea glauca), both of which will grow into a tall barrier or become a beautiful specimen in your yard. Make sure you give them enough space – a 10 to 20 foot spread is normal and it would be shame to have to trim their beautiful symmetry. For the ultimate in a specimen for your yard, who could ignore the Colorado Blue Spruce (Picea pungens) with its beautiful blue foliage just perfect to trim for Christmas. It will bring your yard alive for the festive season and look great in summer too, with its cool blue-gray foliage standing out against the lawn below it.  One of our favorite trees for cold states is the Black Hills Spruce.
If you have a small yard, then the Dwarf Alberta Spruce (Picea glauca 'Conica') is famous for its dense, conical shape without any clipping needed. Not blue, but a soft and glowing green, a pair on either side of the door make a lovely greeting when coming home.
You may already have some large deciduous trees on your property and know that most evergreens will not enjoy the shade. There is however one, the Canadian Hemlock (Tsuga canadensis), which is well-known for being shade tolerant. Soft and slightly pendulous, unlike the sturdy-looking spruce, this tree has real grace and charm and will grow steadily into an elegant tree in shady spots. It also makes the perfect hedge in shade, easily clipped into a dense wall.
Speaking of hedges, let's not forget the Thuja trees, also known as Arborvitae, which are perfect evergreens for hedges in cold regions, or as specimens making splendid upright columns in the garden. Thuja Emerald Green is the hardiest hedging plant available, thriving even when the thermometer hits minus 40 and growing quickly into a dense privacy screen.
Other evergreens that love the cold include the Spartan Juniper, tough as its name suggests and making the perfect hedge or specimen and growing into a dense, green cone that can be 20 feet tall. Known for its drought tolerance this is a great choice if you have hard winters combined with hot, dry summers – conditions that challenge many other trees.
Pine Trees
We mustn't forget the pine trees when looking for trees for cold climates. The Austrian Pine (Pinus nigra) is certainly hardy throughout zone 4 and makes a lovely tree, with its long needles and dense growth. It can be an attractive specimen, a privacy screen and even trims well into a hedge. Be careful if you plan to trim pines, to start when they are young, as you can only cut into areas that still have needles on them.
For a completely different pine, take a good look at the Weeping White Pine (Pinus strobus 'Pendula') which forms an amazing cascading plant just perfect on a slope or falling over a retaining wall. Despite its exotic beauty, this tree is hardy to minus 40, so no problems growing it in cold regions.
Finally, take a look at the Dwarf Siberian Pine (Pinus pumila 'Glauca'), which makes a great little bush for foundation planting in zone 4. This beauty comes from the hills of Japan and with its short blue needles and dense form it makes a great addition to any garden in cold areas.
Finally….
So clearly there are actually lots of choices for shade, privacy and fast-growing trees, even if you live in cold regions. Here at the Tree Center we are ready to help you with your final decision and give advice of what would be best for your property, so get in touch, and happy gardening!