Stabilize your new tree and help ensure a higher degree of successful transplantation!
Newly-planted trees often need support to stabilize their root-ball and keep the stem straight, and the our Tree Stake Kit gives you everything you need, in one convenient package. This kit complies with the latest arborist recommendations for correct tree staking, and does it without wasting resources, as every component is made from recycled materials.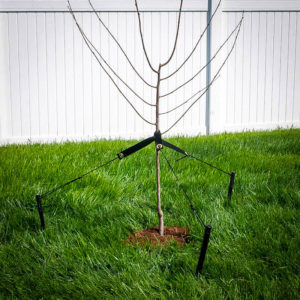 Modern advice from arborists tells us to stake low-down to stabilize the root-ball, while letting the upper trunk move naturally in the wind, which makes it grow thicker and reduces the risk of breakage. This method allows for quick root establishment, and rapid increase in trunk diameter.