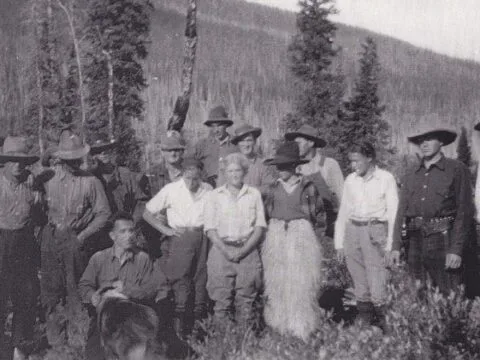 Written by davethetreecenters • November 03 Mary Gibson Henry – A Great American Gardener
Those who don't garden can see it as a soft option in life – after all, what could be challenging about 'playing with plants?' Yet many gardeners have been adventurous trailblazers, and the life of Mary Gibson Henry is a lesson in how to turn an interest in gardening into a life-long mission. Although she enjoyed the advantages of wealth, she could have been just as much trapped by a conventional childhood, but she found a way to fulfil herself that remains a lesson to all of us today.
A Family of Gardeners
Mary had deep roots in America – her mother's family were Quakers who had arrived with William Penn and helped found Philadelphia. Like so many keen gardeners she had gardening in her blood. There was no garden in the Philadelphia town house she grew up in, but her parents came from gardeners Her mother's father kept a greenhouse, and even more impressively, a great-grandfather had been a founding member of the Council of the Pennsylvania Horticultural Society when it began in 1828. Today it is still one of America's most prestigious garden societies. While her immediate parents had no real interest, her father was keen on hunting and camping, and where there is a camp there are plants – and she soon discovered the pleasure of America's wild plants. Exploring around their camp in Moosehead Lake in Maine she came across many wild treasures, falling in love with the delicate beauty of fragile flowers blooming in 'dark, silent forests'.
The Birth of a Passion for Plants
Mary was born in 1884 and didn't study formally past eighteen – university education wasn't considered suitable or appropriate for women of that time. So, the good daughter, she married a doctor when she was 22. She had, though, spent time between school and the altar hiking and visiting the Grand Canyon, Colorado, and climbing Mont Blanc in Switzerland. By 1915, within a few years of marriage, she and her husband had bought a large farm in Maryland. While her husband was overseas in World War I, Mary gardened, and read widely. She found inspiration in the writing of William Bartram, a botanist and explorer who travels through the southeast between 1773 and 1777. Like so many gardeners before and since, she was captivated by the idea of seeing plants in the wild that she only knew in her garden. With six young children it would have to remain a dream for a while. . .
The Education of a Botanist and Gardener
She may have been trapped in Maryland, but her mind was free to spend among her plants. Like so many of us she spent endless hours poring over catalogues of the unobtainable – and then started to work. In a time of snail-mail she developed long-term relationships by post with the U.S. Department of Agriculture's Office of Foreign Plant Introductions, and the Royal Botanic Garden, Edinburgh. From them, and others, she built a solid foundation of plant knowledge. Mary was not just a reader and dreamer – she grew a large vegetable garden, some ornamental plants, and kept orchids in a greenhouse. An article she wrote on growing orchids was published in 1924. In 1926, with her husband now well-established in his profession, they bought Gladwyne, a farm outside Philadelphia and, as the architect put it, built a greenhouse with a house attached. It was obvious where Mary's real interests lay. She immediately began planting the grounds too, and by 1931 she listed 850 different trees and shrubs on the grounds.
A Passion Develops
In her gardens were plants collected in Asia by famous names associated with the Arnold Arboretum at Harvard, including Ernest Wilson, Joseph Rock and the Englishman Reginald Farrer. The books of their adventures these collectors also wrote must have filled her winter nights with dreams. She developed a friendship with Francis Pennell, the curator of botany at the Academy of Natural Sciences in Philadelphia, who taught her how to collect plants in the wild and turn them into the dried herbarium specimens needed for botanical study.
A Lifetime of Plant Collecting
Mary was lucky enough to have a rich, supportive husband, so when she decided to go plant collecting, she did it in style. Her husband bought her a Lincoln Continental and equipped it for collecting, including a ventilated plant chamber, storage spaces, and a desk and bookcase. Her chauffeur on these trips, Ernest Perks, stayed with her for 65 years. The first trip was to the southeast, covered 2,000 miles. Further trips followed, throughout the east, bringing back live plants, especially Rhododendrons, one of her favorite group of plants. These trips also opened her eyes to the beginnings of environmental destruction, which was already destroying rare habitats. Valuable specimens were given to several botanical institutions, so her work was more than just personal indulgence.
Her biggest expedition was in the summer of 1931, in British Columbia, Canada. Beginning at Pouce Coupé, she explored a remote and uncharted region, just as her mentors and idols had done. This time she had a map-maker provided by the Canadians, 58 horses and 9 men. For almost 3 months Mary and her four teenage children trekked through the region, collecting and mapping as they went. They even brought a doctor along for safety. A valuable trove of specimens, seeds and botanical data come out of this expedition.
Becoming Famous
Through the 1930s she wrote an account of her trip and took care of her greenhouses and enormous rock garden. She was a little disappointed that many of the plants she brought back from the north didn't enjoy the climate in Philadelphia, and from then on most of her expeditions were in the southeast – which she loved. Over time the reputation of her and the Gladwyne garden grew, with appointments to the Academy of Natural Sciences in Philadelphia, editing, and writing for horticultural journals taking up more and more of her time – especially now that her children had grown. Her fame among botanists around the world grew. Upper Banks Nursery, a rare plant nursery run by Fairman Furness, in Media, Pennsylvania, was given access to her garden to collect material to propagate, and in 1942 they released a special catalog, Rare and Native Shrubs Collected by Mary Henry. She turned to plant breeding and developed many new lilies and other plants. In 1949 she rallied international support to protect Gladwyne from being commandeered by the US Army Engineers for a sewage dumping ground, and after that she turned it into a charitable foundation.
Death and Legacy
Mary Henry continued to go on expeditions, and her last was in 1967 when she was 82. While collecting in North Carolina she took ill and died – surely the way she would have wished to go. Her transformation from a amateur gardening into one of America's greatest gardener- botanists was completed. Following her death, the gardens continued as the Henry Foundation for Botanical Research, which can be visited today.
The William Penn Barberry
Which leads us to a way to commemorate this great lady and enjoy a unique shrub in your garden at the same time. When you bring rare plants together, interesting things happen. One day Mary noticed an unusual seedling growing at the foot of a plant of one of Ernest Wilson's gifts, a Chinese berberis called Berberis verruculosa. It had been accidentally pollinated by another rare berberis and became Berberis x gladwynensis. She named it the William Penn Barberry, and its spectacular yellow blooms and rich glossy foliage make it the best berberis for blooms. This tough and easy to grow plant loves sun and well-drained soil and grows only 5 feet tall. Be inspired to share a part of Mary Henry's legacy, and plant one in your garden. You can find the full story of its origins on our William Penn Barberry page.