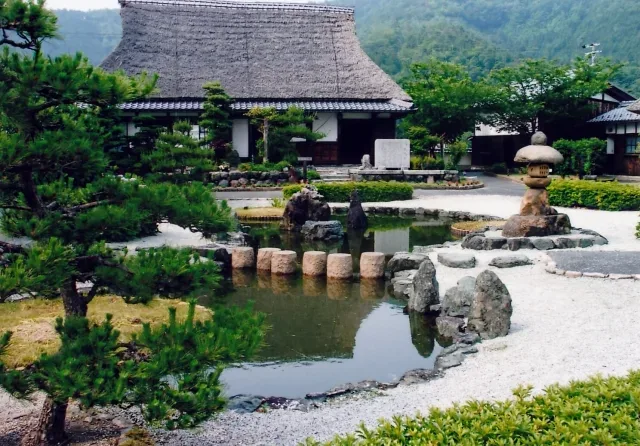 Written by davethetreecenters • September 13 How to Create a Garden in the Japanese Style
For many people, the Japanese are the greatest garden-makers in the world. So for many gardeners, creating a Japanese garden is their greatest ambition. Some study the different types of Japanese gardens for years, devoting themselves to authenticity in every aspect. Other pick up a stone lantern and a bamboo plant at the local big-box store, and consider the job done. Somewhere in between is a garden that conjures up 'Japan', without slavishly re-creating every nuance precisely, but that isn't a parody either. Let's see how this popular style can be used to influence the look of your own garden.
The Main Types of Japanese Gardens
A good place to start is to look more closely at the gardens of Japan. Like Western gardens, they have evolved over the many centuries that the Japanese people have made gardens, and we can see several important styles. All of them have a lot to offer when you want to create your own garden, and perhaps the first thought on how to do this successfully is, 'pick one'. In other words, don't create a pastiche of different styles, but try to re-create the look of one that is most suitable for your particular garden situation. Let's take a look at some of the most important approaches:
Karesansui (Zen or dry Gardens) – this is the garden that is most striking, and in its pure form it's hardly a 'garden' at all. With no plants, and just rocks, sand and gravel, these gardens were made for meditation, and every element is carefully placed and thought out. This is probably the most difficult style to recreate well, paradoxically because it is so simple. It can be a good way to deal with a difficult area where not much will grow.
Tsukiyama (Hill and Pond Garden) – you need a lot of space, and the right kind of landscape in your garden to create this style. It has hilly areas, large ponds, and a combination of beds and grass.
Kaiyu-shiki-teien (Stroll Garden) – a little less ambition than a Hill & Pond garden, the stroll garden is designed for walking round, with winding paths, beds and ponds.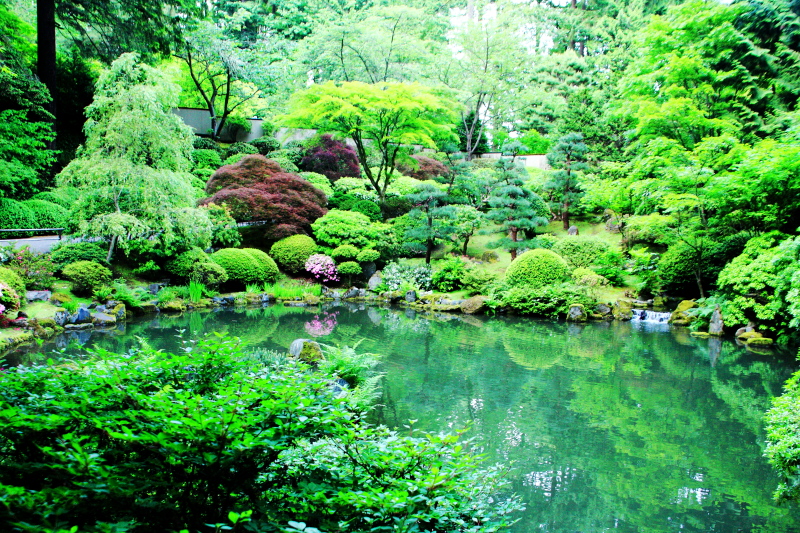 Chaniwa (Tea Garden) – this is an easily-recognized garden, simple, with a path of stones leading to some kind of structure used for the Japanese tea ceremony. Often small, it's a good choice for a home garden, even if you don't actually have a tea house.
Tsuboniwa (Courtyard Garden) – common in Japan, with many houses having only tiny spaces between them, this is a great guide to making a tiny town garden.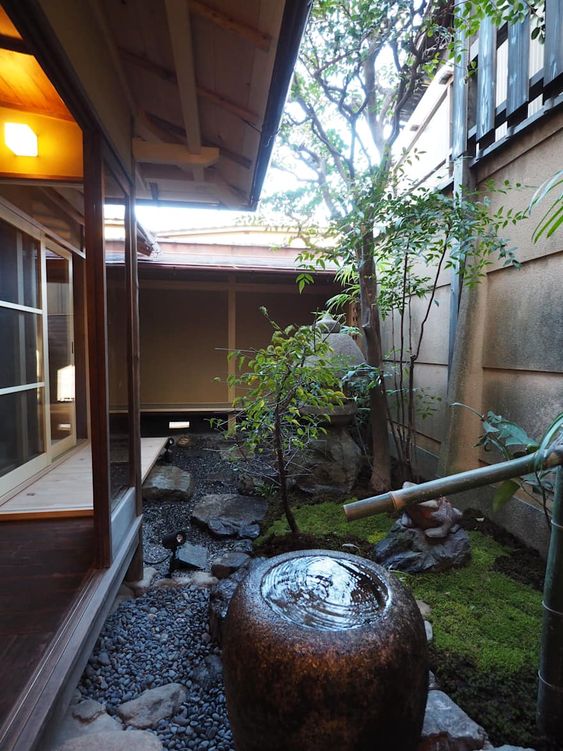 Vital Elements in Every Japanese Style Garden
Western gardens began with geometry, an attempt by kings and their gardens to impose their rule on unruly nature. So straight paths, clipped hedges and fancy layouts of annual flowers are always in the background of our gardens, even though many are now much more 'natural'. The Japanese took Nature as their starting point, wanting to make gardens that reflected the parts of nature they admired. This doesn't mean their gardens are 'natural' – not at all. Their gardens are very stylized, it is just that the model for the style is nature. So certain necessary elements are always found in every Japanese garden, no matter what approach is used. You can find all these elements in use in the pictures of the different styles, and how they are used in each style.
Rocks – natural rock, ideally with cracks, crevices and a weather-worn look, are vital in almost every style of Japanese garden. This can be a problem, since top-quality rock is always going to be expensive to buy and to bring into your garden. So often the best thing is to try and find just a few attractive large rocks and feature them, using cheaper materials for less prominent parts of your garden. Smooth rocks are used for walking, and rugged, worn rocks near water or as focal points.
Water – this can be anything from a large pond to a stone basin, but some water is essential. In the Tea Garden it will be a stone basin called a Tsubaki that is used for washing before going into the tea house. If you can have something like that, the job is done.
Lanterns & Water Basins – the classic stone Japanese lantern is almost a cliché, with lots of cheap copies available. These can be improved by brushing a mixture of milk and soil over them and spraying regularly with water to encourage moss and lichens to grow on them. Attractive old pots of a suitable style are also useful, and a device called a Shishi-odoshi (a deer scarer) is a great element. The important thing is that whatever you use should be in natural materials, like stone or ceramic, wood or bamboo.
Bridges & Fences – a bridge is a big undertaking, but a slab of stone over a trickle of water is pretty easy, and gives you this element. Simple fences to create a background, or divide one part from another, should be as rustic as possible, with bamboo and natural branches featured. Like lanterns, these built elements are designed to show that humans belong in nature, and adds elements that reflect our unique ability as builders.
Trees, Shrubs and Flowers – You don't need a lot of plants for a Japanese-style garden, but the ones you use need to be carefully chosen. Some are considered as sacred, such as maple, bamboo, pine, Hinoki cypress (Chamaecyparis obtusa) and Japanese cedar (Cryptomeria japonica), and these all belong in a Japanese-style garden.
There are three kinds of pine tree used – red pine (Pinus densiflora), white pine (P. parviflora) and black pine (P. thunbergia) and these are often trained to make them look old and windswept. How much of that you do depends on how enthusiastic you are for authenticity and the right 'look'. Since pines have a similar look, it's OK to use different species that are better adapted to your location – unless you are going to be a purist.
One element that is very easy is a Japanese maple (Acer palmatum) because there are so many varieties available with every look and coloring you can imagine.
Be careful with bamboo, and use clump-making forms, as spreading forms will quickly take over your space.
The Japanese have developed many dwarf forms of Cryptomeria and Hinoki or Sawara cypress, so there are many to choose from, and they make outstanding features that need almost no attention.
When it comes to flowers, flowering cherry trees are popular choices. They can take up a lot of space for just a short period of bloom, so look out for Fuji cherry, Prunus incisa, which is a smaller bush. The variety called 'Kojo-no-mai' has single pink blossoms, and it's deeply loved in Japan. The other essential flower is the azalea, and again the Japanese choose simple varieties, avoiding the big double forms we love. Ironically, one of the few bushes that you see clipped in most Japanese gardens is azalea, and they will even sacrifice blooms to keep the perfect globe, or 'cloud pruned' form.
For some more detail on plant choices, see some earlier blogs on this – Classic Trees for a Japanese Garden, Plants for a Japanese Garden & 7 Top Plants for Japanese Gardens.