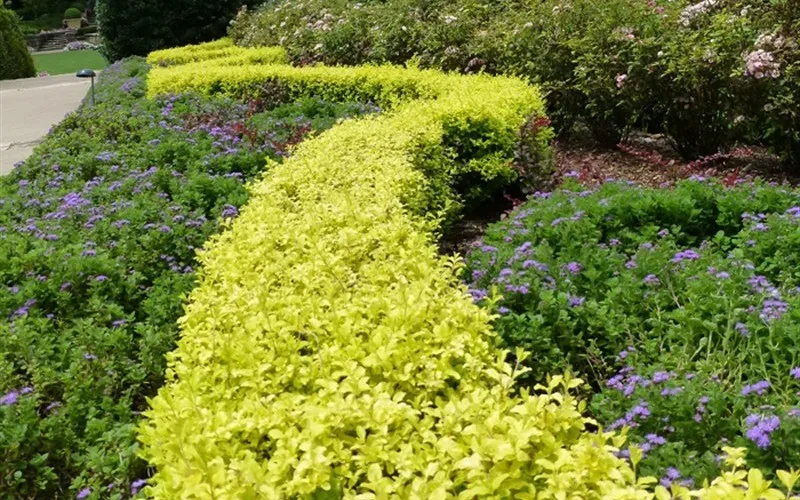 Written by davethetreecenters • March 12 Colorful Hedges for Any Garden
Hedges are important garden features, for privacy, shelter and appearance. Evergreen hedges are always the most popular, since they give protection 365 days a year, and often the need is greatest in the winter, just when a deciduous hedge is bare and open. That doesn't mean deciduous hedges are not a good choice in many locations, and they are great for dividing up the interior spaces of a garden, where privacy is not a top need.
Most people choose a plain, dark green for their hedging plants, but with the trend towards more colorful plants in our gardens, and a more modern feel, colored foliage suddenly seems like a great idea for a hedge too.  Imagine screening your garden with a wall of silver-blue. A low gold hedge along a driveway almost makes it the Yellow Brick Road. Red too is available in a big range of plants, and always looks inviting, with its warm glow. The color could also be a seasonal feature – red leaves in spring perhaps, or of course the vibrant shades of fall on a deciduous hedge.
Most plants can be made into hedges. All that is needed is the capacity to make a twiggy plant, with lots of side branches, and enough vigor to re-sprout after regular trimming. The plant can be evergreen or deciduous, and it could be a conifer or a broad-leaf evergreen, but whatever you choose, going for color will make for a stand-out hedge that will be a dramatic and powerful feature in any garden. For those who don't want to spend a lot of time gardening, adding color in hedges means your garden will be visually interesting even if you add nothing more – a tempting idea for a truly modern garden look.
Plants for Colorful Hedges:
Red Tip Photinia – evergreen, with red spring foliage
Blue Spruce – yes, it makes a stunning hedge
Purple Leaf Sandcherry – rich purple leaves
Lime Glow Japanese Barberry – a glowing line of fashionable lime
Red Leaf Ninebark – muted and sophisticated plum-red tones
Let's look at each of these in more detail:
The Red Tip Photinia (Photinia x fraseri) is a vigorous evergreen that has spectacular red leaves on the new growth. This is most pronounced in spring, but any growth that sprouts after clipping will be red. This means that if you clip your hedge lightly after the leaves turn green, it will quickly re-sprout with a brand-new flush of red. This plant is hardy down to zone 7, and grows quickly and vigorously into an excellent dense hedge of almost any height – certainly up to 12 feet or a little more, if you need a tall hedge. When not glowing red the leaves are a rich and glossy green, so you can't go wrong with this choice. It does best in areas that are not excessively humid in summer.
Blue Spruce (Picea pungens) is a familiar plant to anyone who lives in cold areas, since it is a top choice for a specimen tree where snow and ice are the meaning of winter. It is not often seen as a hedge, but in fact it makes a wonderful dense one that resists cold and wind just as well as specimen versions do. With its gorgeous silver-blue foliage this has got to be the contender for the most dramatic hedge, and it is easily clipped into a dense wall of tight branches. The shorter growing varieties are top choices for hedging, as they are easier to maintain as a lower hedge, and they have the most vibrant coloring. Choose the well-named Fat Albert Blue Spruce, or the Baby Blue Spruce, which is only a baby by spruce standards, and will make a hedge 20 feet tall if you need it.
Purple Leaf Sandcherry (Prunus x cisterna) is another cold-hardy plant, this time with rich purple-red leaves that hold their color through three seasons.  It will make a hedge perhaps 4 or 5 feet tall, perfect for dividing one part of your garden from another. It begins to grow early in spring, and is notable for showing very little dulling of the color over summer. You will always have a vibrant background and a great color effect. In fall the leaves turn even richer reds, and then you have an attractive network of branches forming that barrier during the winter months. This is a very tough, easy to grow plant that is ideal as a colorful hedge.
Lime Glow Japanese Barberry (Berberis thunbergii 'Lime Glow') has leaves in exactly that fashionable color that has been all the rage with interior decorators and gardeners for several years now. It will easily make a dense hedge up to 4 feet tall, again as a perfect way to separate parts inside your garden, or along the street. Don't put it right beside a pathway, as the branches are very thorny. This does however make it a great deterrent to intruders, and lots of people plant these bushes below windows as an effective deterrent to break-ins. As a stylish and modern hedge it can't be beaten.
Red Leaf Ninebark (Physocarpus opulifolius 'Diabolo') is our last suggestion, and again it is a tough, reliable plant. After all, that is the basic requirement for any hedging plant. A deeper, more plum-colored red than the Sandcherry, this is an ideal plant if you want a more sophisticated coloring to your hedge. With its vigorous growth you can be sure this plant will fill in quickly and give you a hedge up to 6 feet tall in just a few years of growth. The color is best in full sun, and the plant is drought resistant, so it's a great choice for a hedge in an open, hot, sunny place.