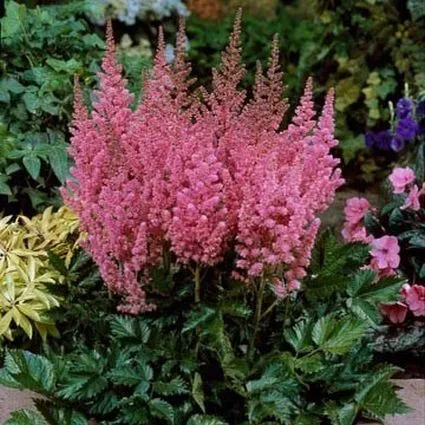 Written by davethetreecenters • May 03 Chinese Astilbe – Top Choice for Drier Gardens
Perennial plants add an extra dimension of beauty to any garden, and ones that are pest-free, long-blooming and low-maintenance are the best ones of all. Add in weeks and weeks of summer blooming, at a time when most shrubs have been and gone, and the ability to thrive in shadier spots and you have a real winner. That combination is met perfectly with Astilbe, plants whose beautiful 'fern-like' foliage and upright flower spikes make any bed look beautiful. In some gardens these plants thrive, and they are especially valuable in the north – both east and west – where summers are cooler and rain is more plentiful. Other gardeners struggle with them and their annoying habit of browning and dying back – or dying, period – if they don't like you. The main culprit is dryness, but hot sun is a problem too, and the combination is definitely a hostile environment to these plants. But there is an answer – check out the Chinese Astilbe.
Why You Should Grow the Chinese Astilbe
Tolerates more sun than other Astilbe
Significantly more resistant to dryness
Flower later than others, extending the season
Has useful low-growing forms
Spreads well into a dense groundcover
Some have purple flowers – rare in other Astilbe
If you have tried and failed with Astilbe, don't give up just yet. It's true that most thrive best in light shade, in rich, moist soil, and even in wet soils if they are not boggy and sour. Give them dry soil and too much sun, and wham! they are gone. But like most plant groups they are more diverse than we might think. Part of the problem is historic, and how our garden Astilbes came about. Although mostly displaced today, the original garden hybrids were created in Germany, by the famous gardener Georg Arends in the first half of the 20th century. Cool weather and summer rain are never in short supply in much of Europe, so the fact that these plants need exactly that was never a problem for Georg. Hybridizers who followed him usually worked with the same species that he did, meaning that most of these plants need that same moisture and shade, and they had little incentive to look for more sun-resistance.
So if you want that 'Astilbe look', but you find this a difficult plant to succeed with, it's time to look further than the most common types you are likely to find in your neighbors gardens, or down at the local garden center. The 'magic plant' for more sunny and drier conditions when it comes to Astilbe is a Chinese species botanists call Astilbe chinensis, and it and it's varieties are where you need to look. Before we do that, let's be clear. This is definitely not a plant for xeric gardening, or those hot, dry spots in sandy soil out in the midday sun. It still enjoys some shade during the hottest hours, and it will grow better with regular moisture. But it is a real step-up in toughness, with a surprising tolerance of full sun and moderate dryness, especially once it is well-established. If you have areas in your garden that are 'nearly-Astilbe' spots, then choosing from among the Chinese Astilbe varieties, rather than others, can definitely give you the edge in succeeding. Let's take a closer look.
Chinese Astilbe
Astilbe is a small group of perennials with all but one species growing in Asia. [That lone American species, Astilbe biternata, is rarely seen in gardens, perhaps because it very closely resembles Goat's Beard, (Aruncus dioicus).] The rest are found throughout China, Japan and Korea, and most were introduced into Europe and America in the second half of the 19th century, with the rapid growth of foreign trade with Japan. It was those Japanese species that first attracted attention, with the Chinese Astilbe, Astilbe chinensis, arriving late. In 1902 it was described as "the most important hardy perennial introduced during the past few years" by England's prestigious Royal Horticultural Society, but those German hybrids stole the show, and Chinese Astilbe got a bit lost. It is often an accident when a gardener plants it, and only when it performs so well do we realize what we have.
Astilbe chinensis grows in northern China and eastern Russia, along the Chinese border areas, so we know it is going to be hardy. It certainly is, thriving in zone 4 without any problems at all. The foliage is usually hairy, more so than in other Astilbe, so some varieties have a distinctive 'dull' look to the foliage, rather than a shiny one. Otherwise the leaves are very similar to others – divided into small oval leaflets with toothed edges. Blooming is often later, which is reason enough to grow it, whatever your garden conditions. Let's take a look at some of the offerings among this great perennial:
Dwarf Chinese Astilbe – Astilbe chinensis var. pumila. This is perhaps the most common variety to find, and it's a great little groundcover plant for partial shade. Water well for the first couple of seasons, and enrich the soil, and you will be rewarded with a solid carpet of attractive foliage just a few inches tall that is sun and drought resistant. In late summer and into early fall spikes of flowers rise up no more than 8 to 12 inches above the ground, often in abundance, smothered in those tiny flowers of Astilbe, in a great mid-pink color.
Tall Chinese Astilbe – Astilbe chinensis var. taquetii. At the other end of the scale, this Chinese astilbe is one of the tallest astilbe available, with a distinctive and striking look that makes it a garden favorite. Under ideal conditions the flower spikes can be 5 feet tall, but 3 feet or so is more normal. The foliage is bold too, making an airy, open mound up to 2 feet tall. The flower spikes have a much denser, narrower look too, making this one instantly recognizable. The color is a dark pink-purple, especially when the flower spikes first color up, and it's a great addition to the more usual light pinks and whites of astilbe. The two varieties available are similar to each other, with 'Purpurlanz' being a bit shorter than the more common 'Superba', which really does live up to its name.
Vision Chinese Astilbe – Astilbe chinensis Vision Series. Right between the sizes of these first two is a variety called 'Visions'. Standing about 18 inches tall in bloom, it has raspberry-pink blooms. Its exact origin isn't clear, except that it came from the Netherlands. Nowadays not easily found, it has been partially replaced by newer plants derived from similar crosses. The first was 'Vision in Pink' – yes, with pink flowers, standing about 2 feet tall in bloom, from 2001. From the same time there is also 'Vision in Red', really more a purple, which is a cross between pumila and taquetii, perhaps as the original 'Visions' also was. Since then there has been 'Vision in White', a gorgeous look, and the only white Chinese astilbe. There is also 'Little Vision in Purple', with dark flowers and a slightly smaller height.