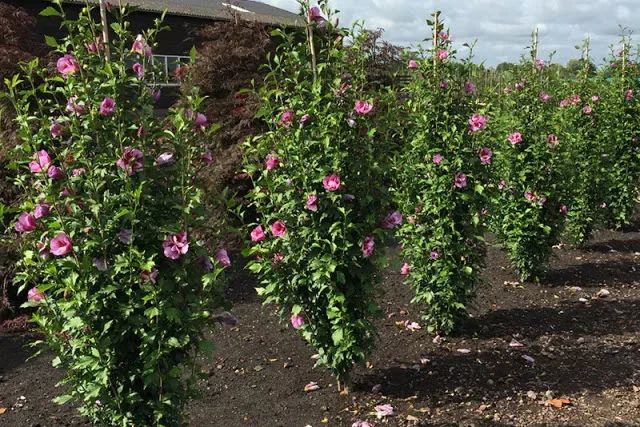 Written by davethetreecenters • May 10 The special Story of a Special Plant, the Pillar Hibiscus
The Hardy Hibiscus, or Rose of Sharon, is a shrub that's familiar to many gardeners. It was once wildly popular but then fell from favor, returning recently with many new varieties. For long-blooming and overall toughness it can't be beaten, especially in hot and dry areas, like Texas, the West and central states. It does also grow well in average areas too, all the way into zone 5. In colder areas it may have a little winter damage, but this is a plant that bounces back, and the perfect shrub for color from mid-summer, or even June in warmer zones, all the way to the end of fall.
Known to botanists as Hibiscus syriacus, this is one of our oldest garden shrubs that wasn't a native plant. Exotic plants from foreign places used to be seen as exciting novelties, and this plant probably arrived in Europe from Central Asia along the Silk Route – the world's most romantic trade route from China to Europe – around 500 years ago. Today you can find it with blooms in many colors, from purples and blues to pinks and white, and even in yellow. What wasn't available were different sizes and shapes of the shrub itself, apart from some differences in overall height. "Wide and bushy" is the
normal shape for this plant, so you do need to allow some room for it – until now.
The Pillar Hibiscus – Something Very Different
Today we have two new forms of the Hardy Hibiscus, one with the classic lilac blooms with a dark-red 'eye' and one in a gorgeous white. Known as 'Pillar Hibiscus', that is exactly what they are – narrow upright plants with stems that grow at 90 degrees to the ground. It forms a narrow column that can quickly grow to 15 feet tall, yet remain just 3 or 4 feet wide – what a flowering accent. Before this we had to rely on evergreens for slender columns, and then often only with clipping, but this is a first – a flowering column that will look amazing in your garden, wow the neighbors and have people stop and ask you what it is. I guess we should almost place a warning at this point, "don't grow this plant if you don't like attention!" You can find these plants described in detail on our pages, but what I want to tell you today is the fascinating story of their discovery and introduction. It's a story of accident, failure and survival, and of the vision and inspiration that fuels so much of what we do in life. Let's get down to it.
A New Plant Appears
The area around the medieval Spanish city of Girona, in Catalonia, is an area of extensive plant growing. There are many nurseries taking advantage of the mild climate to grow plants that end up all over Europe. A popular form in Europe when growing hardy hibiscus is as a tree, with a single tall trunk and a ball-like top. To grow these needs a plant to form the roots and trunk – the actually variety is then grafted on top. Andres Santiago was one of those growers, so he had many seedling plants in his nursery. In 2002 he discovered, among those many seedlings, one with a very strong upright form. Growers often use special plants to make the stems of tree-form plants, like rose 'trees', and with a plant like hardy hibiscus, easily grown from cuttings, it was easy to use this new plant in that way.
Sadly for Andres his business failed, and went into bankruptcy. But before that he had had been visiting a friend and fellow-grower in Italy, Francesco Gandini. For the Pillar Hibiscus we have already had the genetic accident of its unique form, the actual failure of Andres Santiago's nursery and the survival in a new setting of the Pillar Hibiscus. Francesco found the plant great for making those tree-from hibiscus, and that's what he did with it, after Andres kindly gave him some pieces of his discovery.
The story now shifts to the Netherlands, another part of Europe where growing plants is big business. Ad and Mario van Aart are a dynamic young couple wanting to get ahead in a difficult and very competitive business. New varieties that generate sales in garden centers are the life-blood of today's nursery business, and smart growers are always on the lookout for something new. Ad and Mario have a nursery in Oudenbosch, a small village between Antwerp and the port city of Rotterdam, and like many people who work with plants, their idea of a holiday is visiting nurseries. So they headed for Italy, touring, dining and networking with Italian nursery growers – there are lots of them, big and small. One of them was Francesco, whose nursery – Gandini Vivai – is in Guidizzolo, a little south of the Italian Lakes area. Ad and Mario spotted flowering plants of that unique hibiscus, and they saw potential. They were amazed that Francesco was just using it for rootstocks, and a plan was developed.
A Plant Star is Born
We don't know the details of what was agreed among everyone – business has its secrets. We do know that in September of 2009, Ad and Marinus had the plant back at their nursery, and were making more by grafting and by rooting stem pieces. The plant seemed so promising that by 2013 they had an application in place for a patent in the US, and later, for Plant Breeder's Rights, in Canada. The patent was granted in 2015, and the name chosen was a mash-up of the first two people who knew this plant – '`Gandini Santiago`. The patent belongs to Marinus, but we can assume there were other financial transactions between the three parties. Although perhaps a little more complex than most, this is pretty much the route than modern plant varieties take. 'Gandini Santiago' is a bit of a mouthful for most American gardeners, so the descriptive name of Purple Pillar® was registered as a trademark, and a new plant was born. In 2012, at the Van Art nursery, one plant decided to produce white flowers, and 'Gandini Van Aart' was born. Marketed as White Pillar (in Europe as 'Flower Tower White') it is just as narrow as the original, and great as a center-piece in any garden.
Growing the Pillar Hibiscus
The Pillar Hibiscus is easy to grow. Choose a sunny spot, in well-drained soil, and you are off and running. It doesn't have to be good soil, and once this tree is established it is drought resistant and fast-growing. Plant it in a spot where it can grow upwards and make that striking accent. You will notice that in the early part of the flowering season the flowers are semi-double, with extra petals twirling in the center. Later in the season they become single, with a prominent center of stamens, and the dark-red eye becomes even more pronounced. In spring you might want to remove any dead stems from winter, and shorten back the shoots to an even level. Take a look at the picture leading this blog, and imagine a pair of those outside your door – pretty cool, yes?