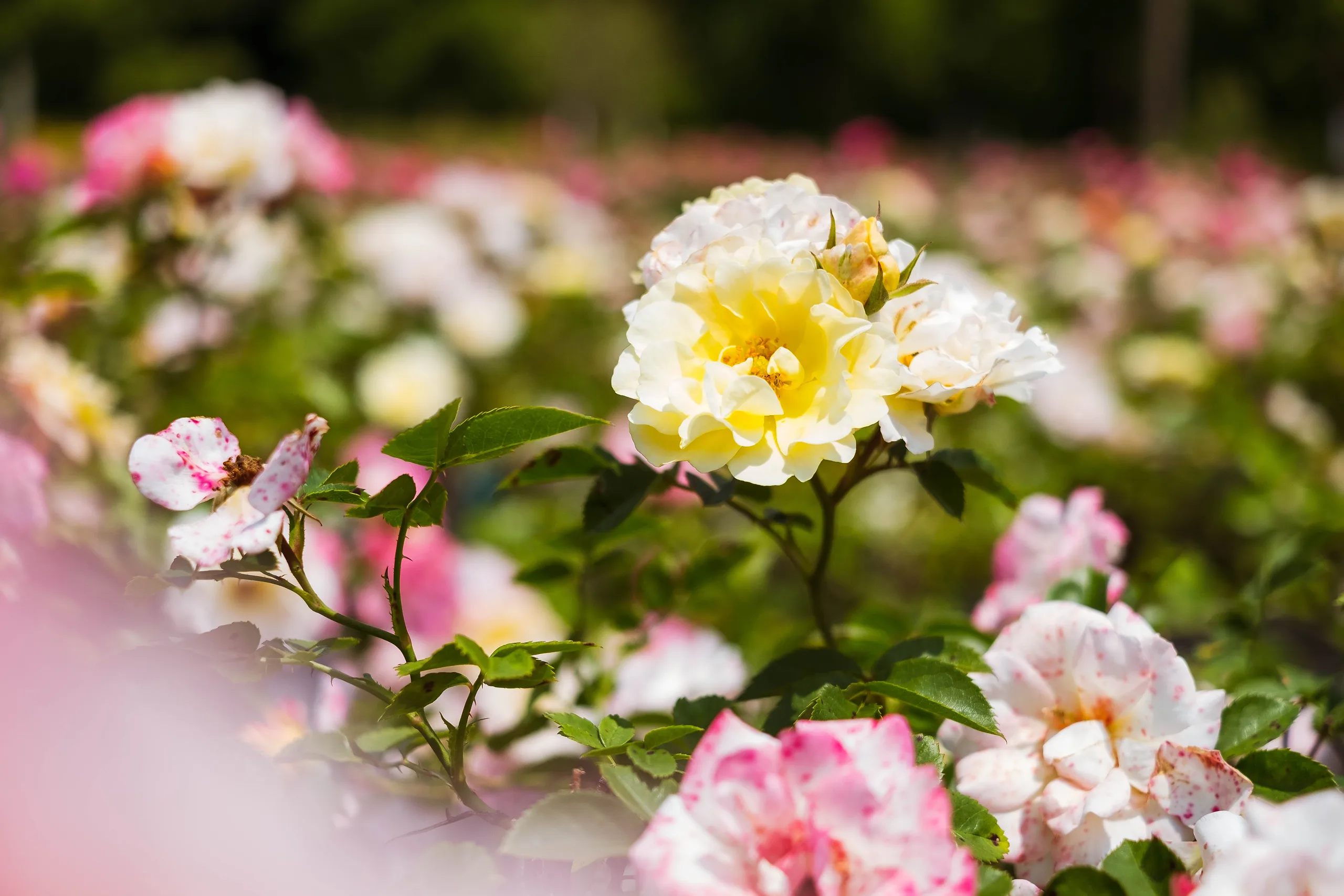 Written by davethetreecenters • March 19 Roses as Landscape Plants
Let's be honest, roses have a reputation for being difficult. While most people love those big blooms, especially from the flower shop, growing them in gardens has faded from a high-point reached perhaps 50 years ago. As the world got busier, people had less time for their gardens, less time for the detailed pruning and care required, and for the spraying for pests and diseases. Also, let's face it, those bushes with big blooms on tall stems did look a bit odd in the garden, and didn't mix well with other plants. That is another thing that has worked against rose growing – garden styles have become more natural, and big blooms are often seen as too artificial and 'man-made'.
Rose breeders are a special group, with esoteric interests, but they do know how to respond to changing public demand. They did not stand still as interest in classic roses faded. They realized the problem and got to work breeding new roses that would be more in keeping with what most gardeners wanted.
New Varieties of Roses
The big realization was that healthy plants were important. Nobody wanted to be spraying every week or two all summer, so those nasty rose diseases like Black Spot and Mildew needed to be controlled. Breeders started to focus on disease resistance, and produced a surprising number of roses with different levels of resistance, so that today we find varieties that are partly or completely free of any serious disease problems.
Secondly, people wanted roses that kept on blooming. Flowers just in early summer, with perhaps a few extra through the rest of summer and in fall, was no longer good enough. Gardeners also weren't so interested in cutting flowers for vases in the home, and wanted that color to be out in the garden, which allowed breeders to develop roses with sprays of flowers, not just single blooms.
Knockout Roses
A big breakthrough was the Knockout Roses, and breeder Will Radler won the coveted All-America Rose Selections prize in 2000 for these disease-resistant bushes that just kept on blooming and blooming. Since then he has regularly added to the range with new varieties, and they continue to be a great choice for medium-sized bushes as specimens or for mass planting. Most grow 3 to 4 feet tall and wide, so they make a substantial statement in the garden – truly a worthwhile plant to use.
The Knockout Roses are still mostly in the classic mold, even if the flowers were in bunches, and often much more open in form. They fit well into a landscape as a flowering shrub, and don't have to be treated as something special. Hardy, disease-resistant and constantly in bloom, they are a great investment for any garden.
Drift Roses
A very different direction was taken by other breeders. How about a small plant, maybe a foot or so in height, and wide spreading? Such a rose would be wonderful for edging beds, planting where it would fall over the edge of a wall, or for planting in containers and planter boxes. The so-called Ground-Cover roses were low, but they spread several feet across, and often became tangled into neighboring plants. They took some skilled pruning to manage well.
Something better was needed – broad but contained and mounding. The result was a trans-Atlantic hookup with a famous French plant-breeding family called Meilland. Many people may not have heard the name before, but they may have heard of their rose – 'Peace' – which is widely seen as the world's most famous rose. On this side of the Atlantic was the firm Conard-Pyle, who had introduced the Peace rose to America in the 1950s.
Meilland took some roses from an overlooked group, the Miniature Roses, which were small bushes with tiny, but perfect flowers. These had been novelties, or grown as pot-plants mostly. A particular favorite among older rose gardeners was one called 'The Fairy'. This was a cold-hardy, disease-resistant rose about a foot tall, that kept on producing clusters of tiny pink flowers all summer long. Clearly this was a good place to start. Combining this variety, and several others, along with promising seedlings, after several years of effort that had what they wanted. They had bred a variety of roses in several colors, all having in common low-growth, disease-resistance, and a spreading but compact and mounded form. Most important of all they were always in flower, with masses and masses of small but colorful flowers in large cluster. They just kept going and going, right up to the frost.
Because they formed drifts of color, especially when planted in groups, Meilland named them 'Drift Roses', and added them to their extensive catalogue. They quickly crossed the Atlantic, brought over and distributed by their old friends at Conard-Pyle. Gardeners have taken to them immediately, because they fill a real need for low, constantly-flowering shrubs to plant in front of borders, or along the tops of walls, where they spill over and soften the harsh lines. As fast as the flowers fade, new ones come along to replace them.
Among the outstanding varieties available as Red Drift, the most elegant of them, with exquisite deep red flowers in a never-ending succession. Popcorn Drift is perhaps the most unusual, with yellow flowers that show white centers as they open. A bush looks exactly like a bowl of buttered popcorn. Peach Drift is the most romantic, with cascading soft-pink to peach-toned flowers.
For those who love natural plants, Pink Drift is the perfect plant. The flowers are single, like wild-roses, and the plant spread over a full 3 feet, while staying just 18 inches tall. Grouped in drifts in natural settings, it looks like it has always been there, a natural form in a natural garden.
These roses promise to change the face of gardens, and can be treated just like other shrubs – plant them and they grow with little care. It is a long way from the old days of pampering and spraying just to produce a few blooms.