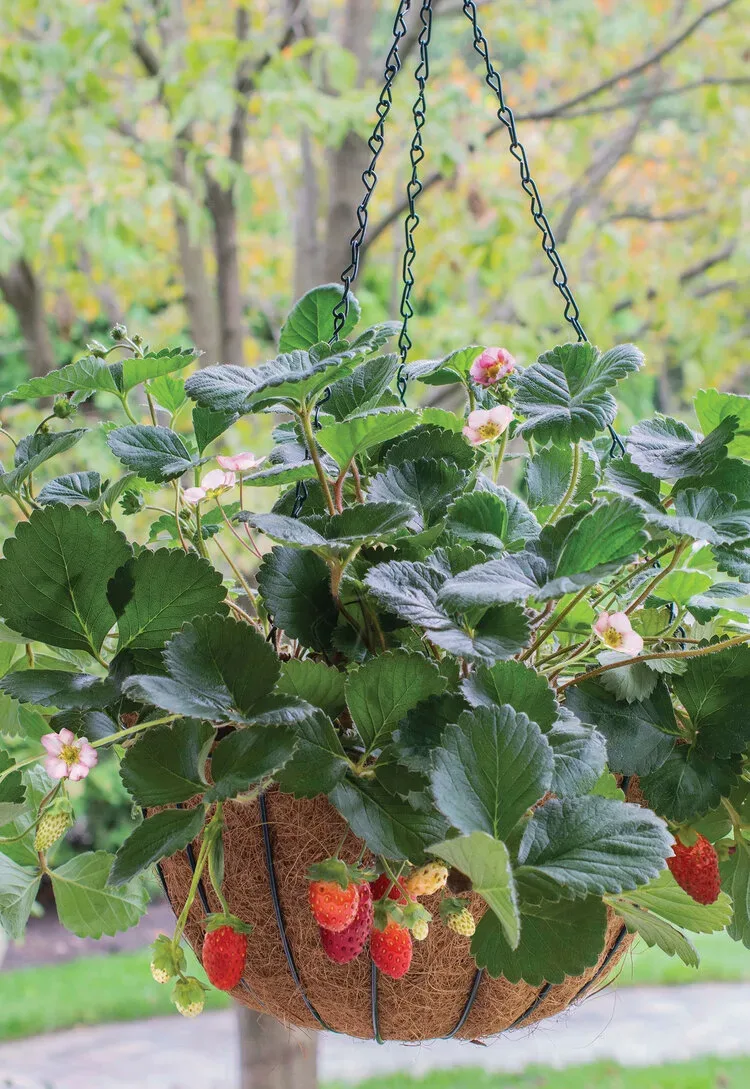 Written by davethetreecenters • July 05 Meet the Belles of the Bowl – a New Range of Ornamental Strawberries to Enjoy
Growing edible plants in your flower garden is a hot trend right now, and everyone is planting everything from zucchini to potatoes in their beds. We have been doing this for years with herbs, of course, but vegetables were a new departure. Even more excitingly new is planting fruit bushes, because these often already have ornamental blooms, and with a bit of skilled breeding the whole plant can be made as beautiful as any garden shrub – and edible!
The top choices for ornamental fruit bushes is the Bushel & Berry® range, which has become incredibly popular with home gardeners. You can already find lots of different blueberries with ornamental features (and delicious berries) among the offerings, as well as thornless raspberries and blackberries. These great plants make it easy to harvest bush-ripened fruit right from your flower beds, and even from planter boxes and pots on your terrace or balcony.
So we keep a close watch for any new introductions, and got very excited when they introduced the very first strawberry plants, that are not only delicious, with lots of tasty berries, but also ornamental. They hang with baby plants fruiting or they have different flower colors, but they all make wonderful ornamental plants for terraces and balconies, as well as looking delightful in your flower beds. Let's take a closer look:
Meet ABZ Seeds
These new plants are the work of one of Europe's top strawberry breeders – ABZ Seeds, from the Netherlands. Reproducing strawberries is tricky and time-consuming – you have to grow them from the young plants that sprout from older plants. So it makes sense to instead grow them from seed, and that's ABZ's specialty. These skillful breeders know all the tricks and secrets to create seed-grown plants that are uniform and all grow the same, just like the old-fashioned plantlets do. Like other pro breeders used by Bushel & Berry®, ABZ produce plants for commercial growers, but they also create plants for hobby gardeners and amateur fruit growers. They wanted a range of plants that would drip with berries, but also look ornamental and beautiful in the home garden – because who wants their garden to look like a farm?
F1 Hybrid Seeds
You might have already met the symbol 'F1' on a seed packet. But do you know what it means? It's really very simple. An F1 hybrid is a plant created by crossing together two different existing varieties. This is a way of making seeds that are uniform, growing into plants that are all the same. Ordinary seed strains can be grown for a long time from their own seeds, but not F1 hybrids. They have to be 're-made' every time. It's especially useful for strawberries, where seedlings are usually very variable. The F1 strawberry varieties that ABZ Seeds create allow growers to produce many plants quickly, something you can't do with traditional strawberry varieties.
Anyway, enough science! Let's take a closer look at these great ornamental strawberries:
Most strawberry have simple white flowers, that develop into the berries. For great color, meet the SCARLET BELLE™ Strawberry (Fragaria x ananassa 'Ruby Ann'), which has brilliant red flowers – a real show-stopper. The strawberries are extra-dark red too, and they are sweet and delicious. This variety crops continuously from June right through the summer and into September. It forms a large, dense mound of leaves and blossoms about one foot tall and over 2 feet wide, with very few of those pesky runners that can end up with strawberries taking over your beds. It's great for edging beds, along a path, or for planting among other lower-growing flowering perennials or annuals.
While strawberries can be grown in garden beds, of course, they are also great for window boxes, pots and hanging baskets. For a beautiful cascading effect from the flowers and berries, look no further than the ROSY BELLE™ Strawberry (Fragaria ananassa 'Frisan'). The flower clusters are on long stems, which makes this variety really cascade out of a pot or basket. Plus, the flowers are a beautiful rosy-pink – so delicate and pretty. They contrast with the bright red berries, rich in the delicious fragrance of sun-ripened strawberries. These are produced from June to September in a continuous flow, so there will always be some berries ripe and ready for your cereal or a smoothie.
If hanging baskets are your thing – and what better way to decorate your porch for the summer? – then if you want beautiful baskets and a continuous summer cascade of strawberries, the SNOWY BELLE™ Strawberry (Fragaria x ananassa 'Elan') is for you. It quickly develops long hanging stems that carry clusters of leaves, flowers and fruit all the way from June to September, just like the others. The flowers are white, but they are exceptionally large, almost like single miniature roses, and the berries are red, extra sweet and with an exceptional vitamin C content – tasty and healthy too.
All these plants are part of the Bushel & Berry® range, and they are all waiting for patent approval. Don't forget to explore other plants in the range, such as blueberries, that are also ideal for planter boxes.
Growing Bushel & Berry® Ornamental Strawberries
Tasty, sweet, prolific – and also easy to grow. Ornamental strawberry plants are very easy to take care of. Add some extra organic material like compost when growing them in your beds, and you might want to spread some straw or shredded paper underneath them, as mulch, and most importantly, to keep the fruit clear of the ground. Direct contact with the earth can rot the fruit before it has time to ripen. Of course in pots and baskets that isn't going to happen, as the berries hang freely in the air, staying healthier than if they are growing in the soil.
Use regular outdoor potting soil, and make sure your containers have drainage holes.
These plants are hardy in zone 4 in the ground, or in zone 6 if you leave the pots hanging. If you bury the pot in the ground for the winter you can have them hanging in zone 4. They grow just as well in warmer zones too, cropping earlier.
Water your baskets regularly, as soon as you see the top layer looking dry. Let the water run out of the drainage holes a little, to be sure they are well-watered.
Feed regularly through spring and summer with a liquid fertilizer blended for fruit bushes. If you can't find that, use tomato fertilizer instead, which is available everywhere.
In fall, when fruiting is over and the leaves begin to yellow, cut everything right back to an inch or two above the ground, leaving a clean clump.
Repot in spring when you see the first new leaves emerging. Remove some of the old roots and pot into fresh soil.