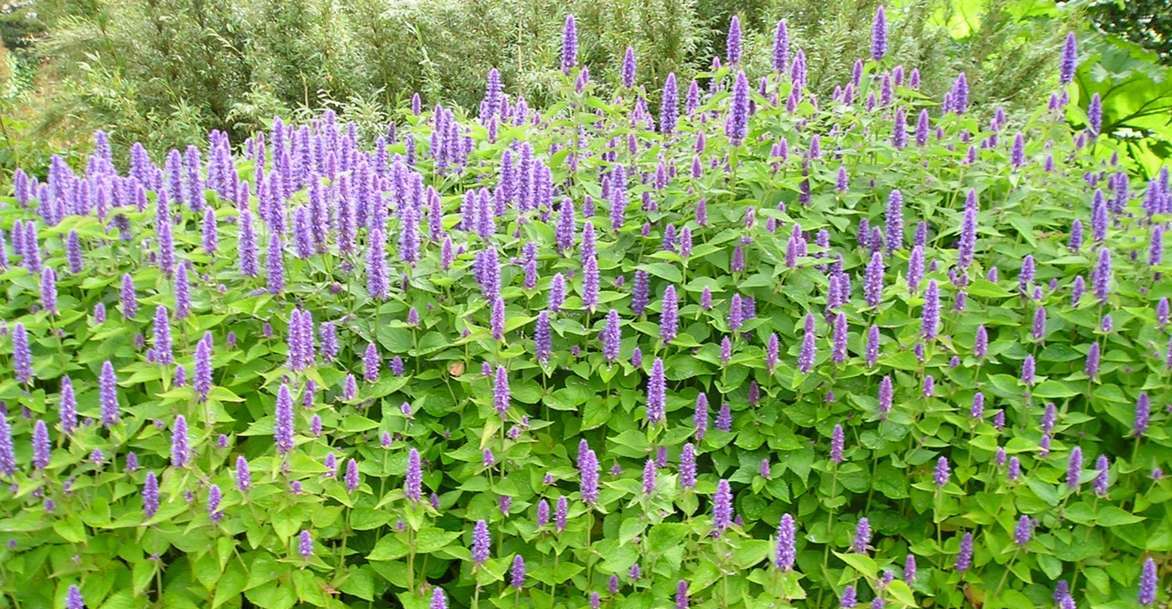 Written by davethetreecenters • June 28 Hummingbird Mints – the Perfect Flowering Plants for Dry Gardens
It's nice to have a sunny garden, but sometimes it can become a miniature Sahara, especially if your soil is sandy and naturally dry. It can be frustrating trying to find plants that will grow, and even harder to find attractive flowering plants for those areas. Today too, many of us want gardens that don't need watering – water has become a precious resource in many places, and out of choice or necessity a garden that is watered twice a week is not possible. In gardening, 'let nature be your guide' is a great idea, so looking to plants that have evolved over millions of years to flourish in dryness is a great beginning – so let's meet a group of dry-zone plants that will bring summer color to the driest parts of your garden.
Agastache
First of all, some names. The plants that botanists call, Agastache has several common names. As a whole they are called hummingbird mints or giant hyssops, and individual species and varieties might be kinds of Korean mint. So maybe it is easiest to follow the botanists, and we will call them all Agastache – just say 'a-guh-stash' – it's simple.
These are plants in the mint family, related to other familiar plants like catmint and lavender (other plants that are also valuable for dry areas). So the leaves are in pairs along the stems, and those stems are square, with flat sides (one of the easiest plant families to recognize). They grow across a large part of the globe, from Mexico up through the western states, with a few spreading eastwards as well. Plus, there is one that 'escaped' into Korea, Japan and China – the Korean mint.
These are perennial plants – they send up stems in summer and die back to the roots for the winter, and all of them thrive in sunny spots, taking dryness well once established. They are hardy to at least zone 5, with some much hardier, and they grow all the way into zone 10 – a plant for every garden. They mostly grow 2 to 3 feet tall, making a clump of upright leafy stems, topped with a long spike of flowers for weeks and weeks through the summer months. They need nothing more than an annual 'cut-down' in fall, lasting happily for years, becoming thicker and a little wider, but not invading or taking over – sounds like the perfect plant!
As we see so often with garden plants, some of the Agastache we grow are close to one or other wild species, while others are hybrids between at least two, and with Agastache even more, wild species. Let's take a look at what you can do with these great plants, and then look at some particular 'top choices' for your garden.
Gardening with Agastache
Although they love dry places, Agastache are happy in ordinary garden conditions too, as long as they are in the sun. All soils are suitable, including rough ones, as long as they are well-drained. That's especially important for winter survival in cold zones. Grow them in your beds in front of shrubs, or mix them with other flowering perennials in a cottage garden. They are perfect for xeric, or dry gardens, and of course the American ones can be grown in natural or wild gardens too. The colors are typically in the blues, purples, yellows and purple-pinks – all great garden colors that fit together beautifully. As the names suggest, these plants attract lots of insects, especially bees and hummingbirds, so there is more to enjoy than just the flowers.
Meet Some Agastache
Agastache rugosa – Korean Mint. All the Agastache have aromatic foliage – it protects them from grazing animals – but Korean Mint is especially notable for that. In China it is huò xiāng (藿香), one of the 50 fundamental herbs of Chinese traditional medicine. In Korea it is a popular vegetable for stews and pancakes, and it makes a pleasant caffeine-free herb tea, with a flavor blending licorice and mint that sooths the tummy.
For a long time only the wild plant was grown, which makes a vigorous upright perennial to about 3 feet, topped with spikes that produce purple-blue flowers from July to September. Today we have some great improved varieties, and our favorite is the 'Blue Boa' – This great plant is more vigorous than the original, the flower spikes are bigger and fatter, and the flower color a more intense blue. It blooms all the way from June to September, so you are assured of great color in those hot places, all summer long.
Hybrid Agastache
Some of our best garden Agastache have been created by skilled plant breeders, especially some of our top women, Janet Egger and Harini Korlipara, at Terra Nova Nurseries in Canby, Oregon. They have worked with multiple species from North America, and the Korean Mint, to create some terrific plants, and some great dwarf forms. Check out some of these:
POQUITO™ BUTTER YELLOW ('TNAGAPBY'). Growing just 12 to 18 inches tall, this little beauty is in bloom from June to September. The flowers are bright yellow – different from the typical blues, and perfect planted with them. Its smaller size makes it perfect for front-of-bed planting, for tucking into a rock garden, or in planters and boxes.
POQUITO™ LAVENDER ('TNAGAPL') Think of this as the purple-blue sister of POQUITO™ BUTTER YELLOW, a perfect complement to it, mixed together or grown alone.
'Morello'. An all-American hybrid of several species from the south-west, this beauty has enormous flower spikes, over a foot long, on top of stems about 2 feet tall – so it's a full sized, 3-foot plant. The large, inch-long flowers keep on coming and coming, and they are a wonderful dark rose-pink, tending towards burgundy or purple, a rich color that looks terrific in the garden
Time to Try Agastache
So don't wait any longer – if these are new plants to you, make them old favorites, and add Agastache to your dry garden (and ordinary beds too). You won't regret it, and the local hummingbirds will thank you too.