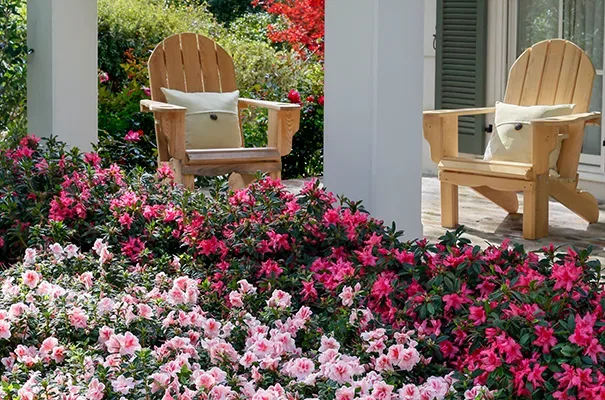 Written by davethetreecenters • December 29 Encore Azaleas – The Flowers that Keep on Giving
Evergreen azaleas are real beauties of the spring garden, and wherever they can be grown they are immensely popular. There are hundreds if not thousands of varieties available, in all the colors of the rainbow (except for sky blue). They come in a wide range of sizes, so they are suitable for gardens of all sizes too. Taller ones can be placed further back in your beds, while smaller ones make beautiful edging plants, or perfect potted plants. They seem almost to be the perfect flower, but they have one 'fault'. The bushes themselves are attractive enough, with their small, slightly hairy green leaves, but when not in flower they are a too bland and boring for comfort. The more you plant, the more beautiful your spring garden will be – but the less room there will be for other plants to bring color at other seasons.
So what to do? Gardeners have lots of complex strategies for bringing more color to their gardens, but today, with azaleas, none of that is necessary, since there is a much simpler solution, called Encore Azaleas. These plants are truly a breakthrough, because they produce a full blooming not only in spring, but also in summer and fall. After their normal spring blooming, new shoots grow and develop more flower buds, flowering continuously throughout summer and fall, ending only when the cold weather sets in.
The Origin of Encore Azaleas
Encore Azaleas are a tribute to the perseverance and commitment of one man. Robert E. Lee, known as 'Buddy' to his friends, is a nurseryman and plant breeder, who grew up in the small town of Independence, Louisiana. He describes himself as a 'plant addict' – after all, he had begun breeding pine trees when he was only five years old. He first became fascinated with azaleas when working in a nursery as a teenager, and he began collecting rare and unusual ones. Then one summer in the 1980s he noticed in his small azalea nursery some plants of a species from Taiwan, blooming away in the middle of summer. He was inspired by this sight to develop an azalea with a longer period of bloom, and set to work. He was just getting by in life at the time, growing some plants and working as a registered nurse to support his family.
He crossed this Taiwan species – called Rhododendron oldhamii, with several other varieties of azaleas and ended up growing between 60,000 and 70,000 seedling plants. He tested this vast array of different plants for hardiness to both heat and cold, resistance to pests, blooming, and of course beauty. After six years, he chose the six best, and these were released in 1995 as the very first Encore Azaleas. They were so popular that he was able to develop a new company, just to breed and distribute them, since he could protect his ownership through plant patents. Since then he has continued to breed more varieties in many colors and sizes, and he has quite literally gone from rags to riches – a real success story.
Why Grow Encore Azaleas?
The great feature of all Buddy's plants is their almost continuous blooming. They begin in spring with a full flush of flowers, around the same time as other azaleas bloom. They then send up shoots all summer and fall, with new blooms, especially as the weather begins to cool a little in fall. With such a bounty of flowers, the answer to our question has to be, "How can you not?" These plants grow from zone 6 to zone 9, and even if in colder areas the tips of the leaves become a little burned by frost, the blossoms come through untouched. They survive hot conditions better than most other azaleas too – after all, they were bred in the heat and humidity of Louisiana. They also grow well in more sun than the typical evergreen azalea, so they can be used in open, sunny places where we would normally not consider azaleas to be the right choice. In warmer areas afternoon shade is appreciated by these plants, but they love to bask in the morning sun, while preparing to bloom again and again.
Choosing and Growing Encore Azaleas
Thanks to Buddy Lee's skill and dedication, those original 6 varieties have expanded into 30 different Encore Azaleas, with colors ranging all the way from white to red and purple, with many shades of lilac and pinks in between. Whatever your favorite azalea color, you can find it in the Encore Azaleas. Each year some new ones are released, and you can always tell an Encore Azalea because the trademarked names all begin with 'Autumn' – Autumn Fire, Autumn Sunset and Autumn Royalty, for example. All of them are between 2.5 and 4 feet tall, and about as wide as they are tall, or a little wider. They make colorful additions to your shrub beds, or a vibrant part of the foundation planting around your home. They can also be grown in pots – which is a great way to grow them if you don't have the acidic soil they, and of course all other azaleas, need to do their best.
Encore Azaleas are tough plants, with no serious pests or diseases, and able to grow well across a vast stretch of the country. They are hardy to minus 10 degrees, and just ask for a regular supply of water and perhaps a little fertilizer in early spring. Always choose fertilizer blended for acid-loving plants, and if your soil is neutral or slightly alkaline you can still grow them with the use of chelated iron, an easy annual treatment that keeps them healthy in almost any garden soil.
If you are new to azalea growing, or if you have been growing them for years, you will love having these remarkable plants in your garden – and enjoying their gorgeous blooms not just in spring, but in summer and fall as well.