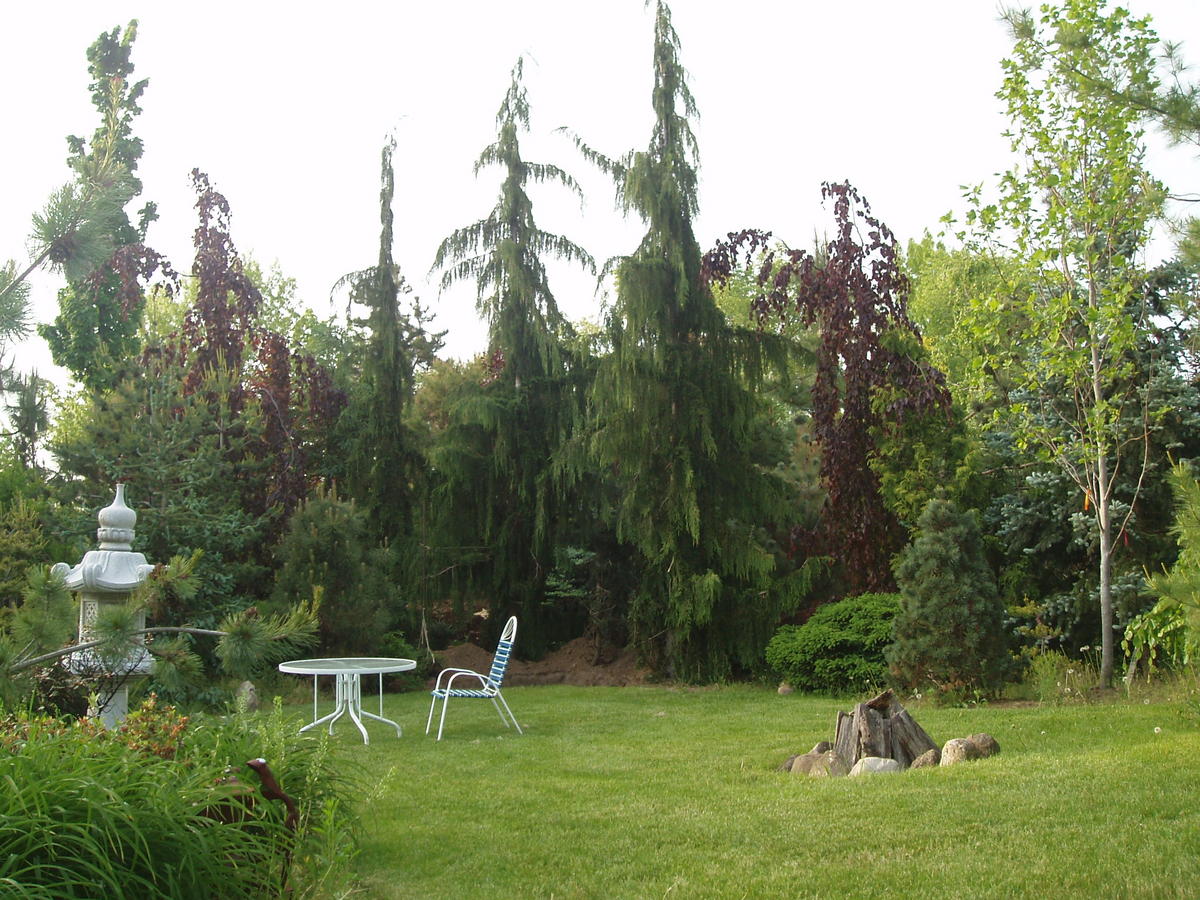 Written by davethetreecenters • June 11 Dramatic Vertical Garden Accents
When organizing the layout of plants in your garden, making the best and most exciting arrangement you can is the key to making the ordinary look extraordinary. Most plants are basically rounded, and the eye tends to pass quickly over them. What gets our attention is vertical lines. There are quite a few plants that are upright, and even narrow, but there are some that are incredibly narrow – exciting accents that really lift your planting arrangements. These powerful verticals stop the eye, and make us take more time viewing the garden. When we take time, the experience is more satisfying, we find the garden more interesting, and judge it as high quality. So adding these strong verticals to your garden is an important way of lifting an otherwise ordinary planting to another level.
These narrow plants are also excellent ways to fill awkward corners of the garden – those small spaces that need something tall, but where there is little room for width. Rather than plant some unsuitable tree, choose a very narrow plant, and you will never be faced with constant trimming and a plant that is always in the way.
Another valuable place for these plants is on either side of doorways and entrances, or lined up along a driveway. A pair or an avenue of vertical accents brings class and quality to the simplest yard, and makes the potentially ordinary suddenly very special.
The classic way to make verticals is through clipping plants that are already upright, into even tighter forms. But that takes time, and the look is more 'formal', not necessarily the casual look we often try achieve today. There are however some plants that are naturally very upright, and that fill the need for dramatic verticals, so let's take a look at some of the best ones.
Plants for Vertical Accents in the Garden:
Skyrocket Juniper – hardy, drought-resistant, and a strong vertical line
Blue Italian Cypress – great choice in warmer areas for a classic exclamation-mark tree
Sky Pencil Holly – a perfect narrow evergreen that grows well in shade and is ideal when you need something smaller
Weeping Giant Sequoia – a powerful vertical tree. Weeping side branches make every tree is a unique individual
Weeping Alaskan Cedar – remarkable cascading branches from a cold-hardy tree with a super-narrow profile
Skyrocket Juniper
When the Skyrocket Juniper, Juniperus scopulorum 'Skyrocket', was first made available to gardeners in the 1960s, it caused a sensation, and its popularity has never diminished since then. Growing 10 to 20 feet tall, it never exceeds 2 or perhaps 3 feet in width, without any clipping needed at all. With an annual trimming, 12 inches wide and 10 feet tall is easy. This powerful garden exclamation mark has dense foliage in a beautiful silver-blue color, and it is not only winter hardy to minus 30, it is drought and heat resistant too, so it grows almost anywhere. It also works well in a large pot, so it can be used on a terrace or patio. This plant is the simplest way to create an eye-catching accent in your garden, and with its rapid growth, it has to be the number one choice.
Blue Italian Cypress
This rare blue version of the classic Italian cypress is a knockout tree that brings a powerful vertical into any garden in warmer regions. Hailing from the Mediterranean, the Blue Italian Cypress, Cupressus sempervirens 'Glauca', may one day reach 80 feet, but it will never be more than 6 feet wide. Drought-resistant and tough, this is a 'no problems' way to make a strong vertical statement, or frame an entrance with classic beauty.
Sky Pencil Holly
Many vertical trees grow tall, too big for smaller gardens, but the Sky Pencil Holly is more modest, while still making a bold vertical statement. This selected form of Japanese Holly, lex crenata, found on a sacred mountain in Japan, grows just 8 or 10 feet tall, but it is never more than 2 feet wide. It can easily be clipped to keep it smaller, and it has the added bonus of growing well in partial shade. As a single specimen, as a pair flanking an entrance, or planted in a row as a brilliant narrow screen, this versatile and easy to grow plant should be in every garden.
Weeping Giant Sequoia
While the plants we have looked at so far give us a clear vertical, there are other trees that are vertical, but with additional features, like weeping side branches. The Weeping Giant Sequia, Sequoiadendron giganteum 'Pendulum', is one of these, and this really is a ravishing, stand-out tree that will turn heads. It grows to about 25 feet tall, and has a strong central trunk, with a long curtain of weeping branches cascading from it. They fall directly downwards, so even at full height the tree is never more than 3 or 4 feet wide. A tree with personality in spades, each one is unique in the way it grows and develops. You can help give it even more character with staking and selective pruning, but it will always stand out as a dramatic vertical. This is an easily grown tree that certainly looks very special. It is a unique form of the remarkable California Redwood, or 'Big Tree' – which makes it an even more interesting talking point when your friends come around to admire it.
Weeping Alaskan Cedar
While the California Redwood needs milder conditions, there is another vertical tree that combines cascading branches with a narrow, upright form. This is the Weeping Alaskan Cedar, Cupressus nootkatensis 'Green Arrow', which is hardy right the way into zone 4. It will grow 20 to 40 feet tall, yet it stays just a few feet tall. Over time it develops a broader 'skirt' of weeping branches, which can be left to spread outwards if you have room, or trimmed as needed to keep that narrow shape right to the ground.
In Closing. . .
By adding one or more of these strongly vertical trees to your garden, you will be growing a unique specimen, especially if you choose those weeping vertical forms of Sequoia or Alaskan Cedar. These trees make all-important accents, that turn your ordinary planting into something special. Leave them out, and your garden will be less than it could be – and we always want to strive for the best.