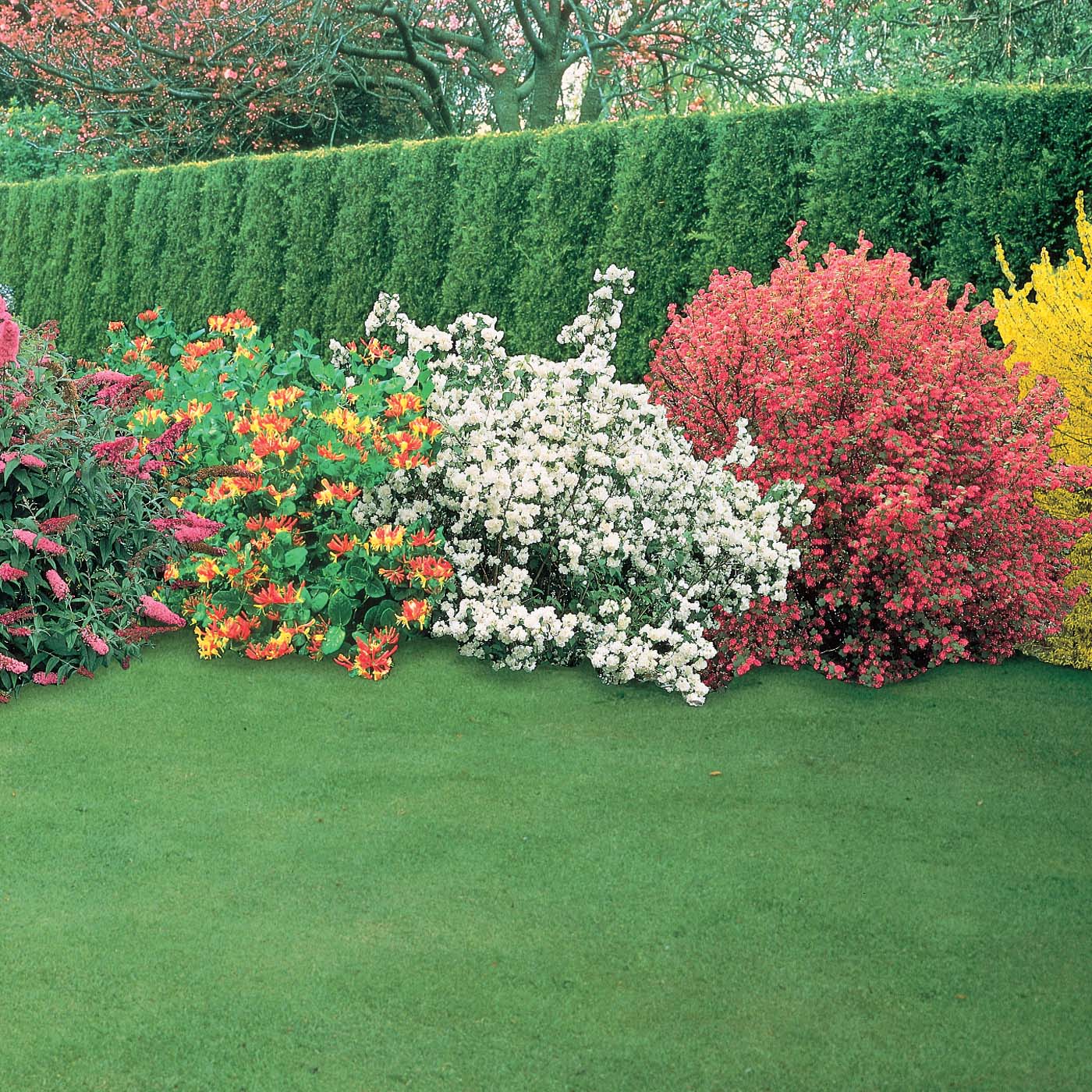 Written by davethetreecenters • June 19 Bring Lots of Color to Your Summer Garden
It sometimes seems that garden writers are obsessed with the 'off' seasons in the garden. There are endless blogs on flowers for spring, color in fall, how to have winter interest, but summer seems to be forgotten. Yet that is the time when almost everyone is in their garden, enjoying a vacation at home, barbecuing, throwing parties, and having family gatherings. So surely that is the time when we want our gardens to look their best? It might seem easy, surely everything blooms in summer, doesn't it? Well no, most blooms are in spring, which makes sense from the plant's point of view, and having a vibrant, colorful spring garden is the easy part. Since many of the most popular flowers – cherry trees, magnolias, azaleas, for example – all flower then, it is almost a given that if you plant the things you love, you will have a wonderful spring garden.
Summer Color in the Garden
Choose shrubs with colored foliage – Lots of easy-to-grow choices
Plant summer bloomers – Crape Myrtle in sun, Hydrangea in shade
Grow roses that bloom all summer – plant the Drift and Knockout roses
Bring out your houseplants – they bring a tropical feel to any garden
In many places spring is an uncertain season – warm and inviting one moment, showery and colder the next. Because of this, we don't always get out and enjoy our gardens at that time, Instead we wait for the warmer, more stable weather of summer, by which time lots of our flowers are finished blooming.
The usual solution is to plant annual flowers, but that takes time, can quickly cost a lot of money, and then needs be done all over again the following year. Shrubs and trees offer a lot more, and once planted they get better and better every year, with very little extra effort from us. Let's look at some uncomplicated ways to bring summer color into our gardens with trees and shrubs – just when we need it most.
Grow Shrubs with Colored Foliage
There are a sizable number of easy-to-grow shrubs that bring bright color as long as they have leaves. One of the easiest and most popular is the Gold Mound Spirea. Hardy in zone 4, this reliable plant has leaves in that perfect acid yellow that compliments so many other colors in the garden. It starts out in spring that way, and unlike some other shrubs with colored leaves, it stays that way till fall. Growing just a couple of feet tall, it is perfect for the front of a border, or even for growing in a planter box, and since it grows easily almost anywhere, it is impossible to have too many of these around your garden.
At the other end of the spectrum, rich crimson reds are always a stand-out, and for that color in the background, or as a specimen on a larger lawn, you can't go wrong with the Smoke Tree. In the varieties 'Royal Purple', and 'Grace', this hardy shrub gives us vibrant purple coloring that brings a punch to spring, and carries on through summer. In fall the colors turn vivid red, and there is a great summer bonus in the sprays of rose-colored fluffy flowers that float like smoke over the bush. Allow plenty of room for this beauty, it can reach 10 to 15 feet tall, and almost as wide, but to fill a larger space effectively with all-season color, nothing beats it.
Plant Summer Bloomers
There are some terrific shrubs that bloom all summer long, and very few can beat Crape Myrtles. Although usually only hardy to zone 7, some varieties do well in zone 6 too, but that still makes these great shrubs available to many gardeners across the country. Shrubs and small trees, they come in a wide range of vibrant colors covering the whole spectrum of purples, lilacs, reds and pinks, plus white, and they bloom continuously from the beginning of summer to the first frost. There are very few plants you can grow that will give you as much flower-power as Crape Myrtle.
Crape Myrtles love heat and sun, but if your garden is shady, then fill it with Hydrangeas. These revel in those shadier spots, and they enjoy damper soil too. With huge heads of bloom in pinks or blues, depending on your soil, they fill all those awkward, shady corners with beauty. Even if you live in cold areas, the panicle hydrangeas, with their cones of white blooms that turn pink and red in fall, are tough and hardy in both sun and shade right into zone 3. Newer varieties, like 'Ruby Slippers', are rich red all summer, and bring a real punch of color just when you want it most.
Grow Roses that Bloom All Summer
Everyone loves roses, and many put on a great show in late spring and early summer. When the hotter weather comes, however, most give up, and wait until fall arrives before putting on a second show. At least thats how it used to be, but no longer. Breeders have been at work, and now we have the Knockout Roses, which bloom continuously, and are so tough and disease-resistant they make rose growing suddenly easy for everyone. If your garden is smaller, you need color in the front of your beds, or perhaps spilling over a wall, then plant the Drift Roses. These beauties come from France, and they capture the old-world charm of bunches of miniature flowers on sprawling bushes. They are completely modern, though, in their ability to resist diseases and keep on blooming all summer long.
Bring Out Your Houseplants
Sitting in the garden on a hot summer's day can feel like a holiday in the tropics, and you can enhance that feeling by bringing your houseplants and palm trees outdoors, to give a tropical feel to your terrace or patio. With their big, bold foliage, houseplants of all kinds outdoors will make you feel you have moved to an island paradise, and your plants will thank you too. While there is no risk of frost, an outdoor vacation for your house-bound plants will revive them after a winter indoors, and allow birds and larger insects to clean up any pest problems for you too. Give them regular fertilizer while they are outside, and when it comes time to bring them in again, you will be amazed at how strong and healthy they have become.