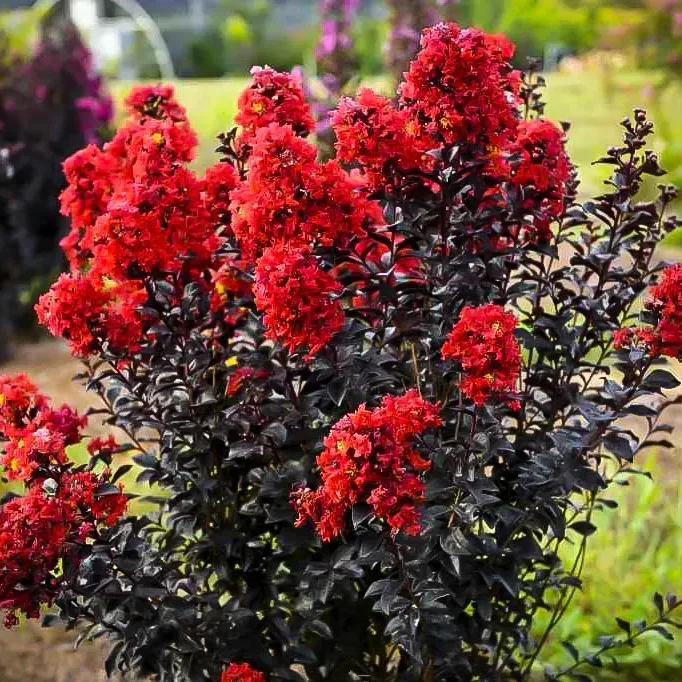 Written by davethetreecenters • September 03 Are You Growing These Fall Blooming Plants? You Should Be!
We tend to think of garden flowers as something that happens in spring and summer and having blooms at those times is relatively easy. Too many gardens though, are finished by Labor Day, and yes, there is fall color still to come, but the end of summer shouldn't mean the end of colorful flowers. There is something almost magical about flowers appearing in fall, so when planning your garden, make room for some easy fall-bloomers to take over after the summer flowers, and extend the gardening season right up to the first truly-cold days.
Easy Shrubs for Fall Blooming
Hydrangea – lots of choices, and all of them are spectacular
Encore Azalea – that's right, now there are azaleas for fall too
Crape Myrtle – a reliable re-blooming shrub or tree that thrives in heat
Hydrangea
Hydrangea bushes must be at the top of any list for fall blooming shrubs. No matter where you live, from zone 3 to zone 9, there are hydrangeas that will bloom in your garden. The great thing about hydrangeas is the scale of their blooms – not some tiny flower buried among the foliage, but big, bold heads made up of many individual blooms. They stand out right across the garden, and really make a statement you can't miss.
For the coldest gardens, choose the Panicle Hydrangea (Hydrangea paniculata), which is instantly recognizable because the flowers heads are conical in shape. The flowers start off a beautiful pure white in late summer, and as cooler nights arrive they begin to turn pink, eventually turning rich red by late fall. The original variety was a large shrub that could become almost tree-like in time, but modern varieties are much smaller, ranging from 3 to 8 feet tall, depending on which one you choose, and how hard you prune them in spring. Varieties like 'Bobo' and 'Little Quick Fire' stay small, and they will grow happily in a large pot too. Larger varieties like 'Tardiva White', or 'Pinky Winky' are terrific ways to fill spaces in a larger garden. The variety 'Limelight' caused a storm of interest when it first appeared, because its combination of lime-green and white flowers were super-fashionable colors. The original grows large, but for smaller spaces there is 'Little Lime', with the same 'cool' colors, but on a smaller plant.
If you live at least in zone 5 you can indulge in more color, with Mophead Hydrangeas (Hydrangea macrophylla). The enormous, dome-shaped flower heads come in wonderful shades of pink, red or blue, depending on the variety and the type of soil you have. If you have acid soil you can grow coveted blue forms, like 'Nikko Blue', but if you don't it isn't a problem, just plant a versatile and flexible variety like 'Penny Mac', which will bloom blue if you do have acid soil, and a lovely rich pink in all other kinds of soils. No matter what your soil type, if you want pink, the reliable variety 'Glowing Embers' will give it to you, in any soil at all. In warmer areas this hydrangea tends to bloom more in summer, although the blossoms hold well into fall.
With the emphasis on native plants, if you are in zone 5 or warmer, plant the Oak-leaf Hydrangea (Hydrangea quercifolia), which has distinctive lobed leaves and huge, open flower spikes that resemble those of the panicle hydrangea. Some of the country's top plant breeders have produces some great varieties, such as 'Alice' for pure-white, or 'Ruby Slippers', which as the name suggests has beautiful rich-red blossoms.
Encore Azalea
Azalea bushes are well-known for their spring blooms, and rightly so. But now we have a whole range of colors that look perfect in spring, but then make a giant comeback in fall, giving a spectacular encore to their earlier display. There is a whole range of colors in this series, from the orange tones of '
Autumn Sunset
' and '
Autumn Embers
', through the warm pink of '
Autumn Princess
' to the fuchsia-pink of '
Autumn Rouge
'. Don't forget a touch of white too, with '
Autumn Angel
'. Whatever varieties you grow,
you will be amazed at the fall coloring they bring to your garden
.
Like all Azalea bushes, the Encore Azaleas do need acid soil conditions, but if you don't have that, don't worry. With their fibrous root system, azaleas thrive in containers and pots, just as long as you fill them with potting soil for acid-loving plants, and feed regularly through the season with liquid fertilizer for acid-loving plants. In fact, since it is easier to keep the moist during dry spells, plants in containers often do better than those in the open ground. You can also control the light-levels better by simply moving the pots around as the sunny areas shift around your garden. Morning sun is ideal for these plants, with some shade from midday on, from the heat of the afternoon sun, especially in hotter states. You do need to live in zones 6 or 7 to grow these plants outdoors all year round, but even then, if you have a cool porch, you can over-winter them just about anywhere.
Crape Myrtle
Crape Myrtles, in all their many sizes and colors,
are certainly plants that bring lots of color to early summer, but they also regularly re-bloom in fall too
, so plant them where their fall blooming will be appreciated. These heat and drought resistant plants are perfect for poor soil and the hottest spots in your garden, so don't plant them in anything but full sun, if you want to maximum blooming, especially in fall.
An important new improvement in Crape Myrtles has been the development of colored foliage. Not only does that make the bushes striking in spring, before bloom even starts, it creates a bold color contrast with the blooms, so they pack an extra color punch too. Look for varieties with the word 'magic' in the name, like 'Plum Magic' or 'Sunset Magic', if you want to be the first in your neighborhood to have these great newer forms.
If you like Crape Myrtles, but only have a small space available, then 'Pokomoke' is the variety for you. Growing just 2 feet tall, but with reliable prolific blooming in deep lilac-pink, this is the perfect choice for mass-planting in front of larger shrubs too. Even if you have no space at all, you can grow this little beauty in a container, and enjoy its fall blooms up close.
These three plants will bring lots of color into your garden for fall, and they are all easy to grow too. So take your garden to the next level and extend your blooming into fall – like the pros do.