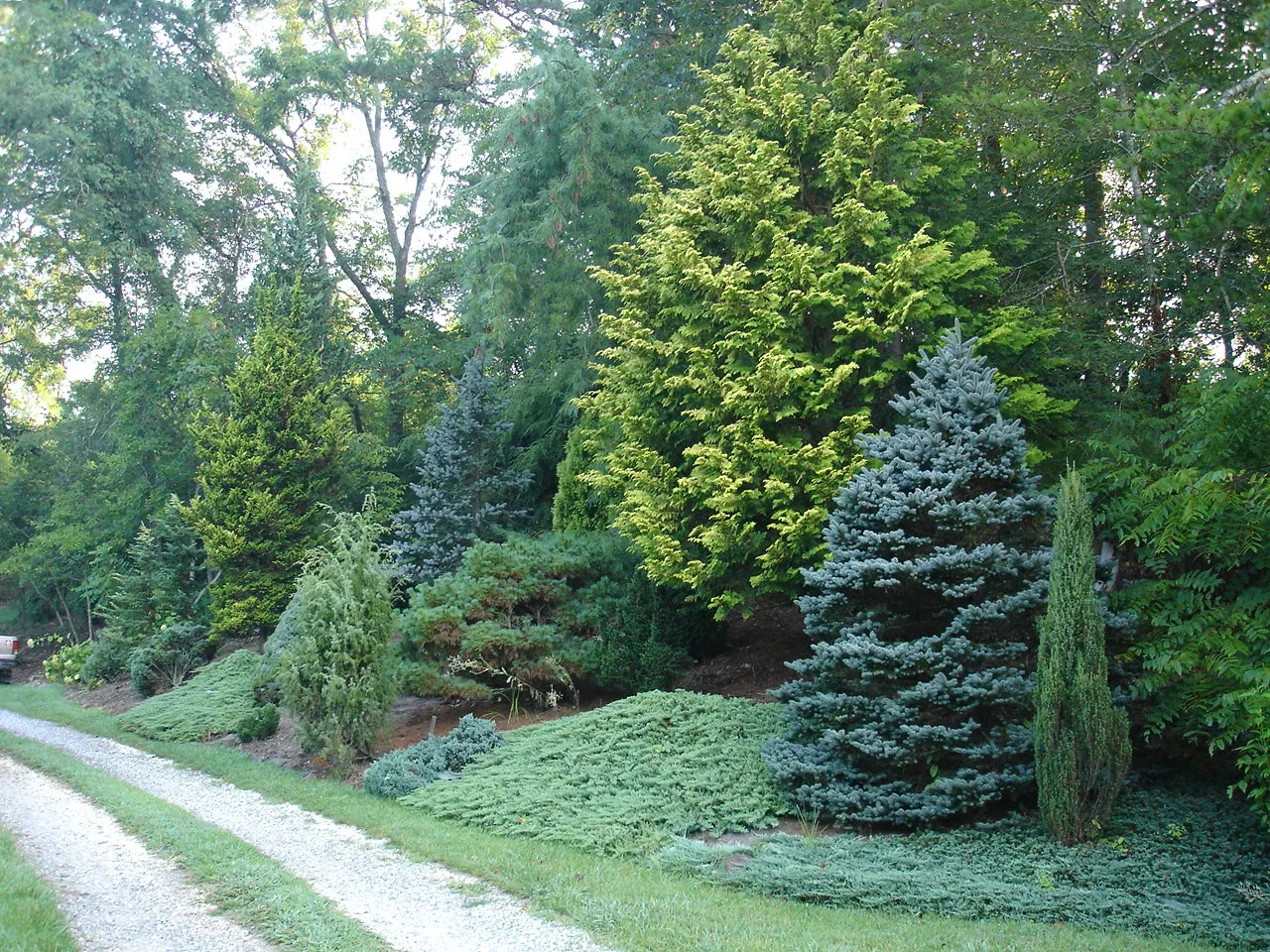 Written by davethetreecenters • December 12 7 Great Evergreens for Winter Interest
As the first snow settles in northern areas of the country, and the fall colors become a memory everywhere, the smart gardener has by now cut down or dug up their flowering plants, raked the leaves, and perhaps even dug over their flower beds. Mulch has been spread, and the garden settles into its winter sleep – long or short, depending on where you live. With the flowers gone, evergreen shrubs suddenly jump into prominence, and we notice their beauty as we never did in summer, when more flamboyant plants took our attention away.
It might be the clean, crisp lines of trimmed hedges, suddenly standing out against the black soil, or the interesting forms and colors of a selected dwarf form. Wherever you look, the cooler weather brings out the golds, silvers, and blues of evergreens, turning them from background to foreground almost overnight. If you want to have an interesting garden in winter, some well-placed evergreens will do it. Their bulk and color, combined with unusual forms of foliage, and weeping, creeping, rounded or upright habits give us plenty of variety to choose from. Planting them in winter or early spring, depending on where you live, will give you a chance to place them without the distraction of other plants. You can more easily create a balanced picture at those times, placing them strategically to make accents and focal points, or to frame a doorway.
Here are some interesting evergreens that will bring color and form to the garden in winter. Remember when choosing colors that green is a color too, so don't use only golds and blue. You will create a much more attractive picture if a third to a half of your evergreens are just that – green. Rely on unusual foliage forms to give them special interest.
1.     Twisted Hinoki Cypress
Since we mentioned the importance of green, let's start with a green evergreen, but one with a fascinating form. The Twisted Hinoki Cypress, Chamaecyparis obtusa 'Torulosa', is a plump, rounded plant with remarkable foliage that spirals and twists, and even forms elaborate 'cockscombs' at the ends of some branches. From a distance it has a rich, complex texture, and the details of the foliage become more apparent up close.  That makes it an ideal specimen to place by a doorway, or along a path, where its details will not be lost. This plant is hardy to zone 4, and will reach 5 feet tall and as much across in about 10 years. Like all dwarf evergreens it will continue to grow slowly for its whole life. Old specimens can reach over 10 feet tall after 30 years, and will have a grand 'presence' by then. This is an easy plant to grow, and its soft foliage means you can plant even where you often brush past it.
2.     Vintage Gold Cypress
A relative of the Hinoki Cypress is one of the best golden evergreens around. The Vintage Gold Cypress, Chamaecyparis pisifera 'Vintage Gold', is a relatively new form, which has proven immensely popular with knowledgeable gardeners. Just as hardy as the Hinoki Cypress, this is a plant for a sunny place, because plenty of sun will bring out the best and strongest color. In the winter sunlight it will sparkle with deep, rich golden tones, like a beacon in your garden, and looks wonderful against the dark earth, or the backdrop of a clipped hedge. It has soft, ferny foliage, and after 10 years it will be around 5 feet tall and 3 feet wide – a wonderful plant for winter color. Apart from placing it in the sun, this is a hardy plant (to zone 4), that will grow almost anywhere, in any garden soil.
3.     Blue Star Juniper
At the other end of the color spectrum, and an ideal size for a small garden or a planter, we find the Blue Star Juniper. This selected form of Juniperus squamata is a tough plant, ideal for dry, hot, and rocky spots, it is hardy to minus 30 Fahrenheit as well. It forms a low rounded shrub, usually seen about a foot tall and wide, but capable of reaching 3 or 4 feet in each direction, given enough time. Its foliage is dense and bushy, and a remarkable shade of real blue, not just the silver of many other 'blue' evergreens. This plant is a top choice for low-maintenance gardening, needing nothing from us but admiration.
4.     Skyrocket Juniper
While the Blue Star Juniper is rounded and low, the Skyrocket Juniper is just the opposite – a pencil-thin exclamation-mark of a plant. With its narrow, upright form, this plant, Juniperus virginiana 'Skyrocket', is perfect as a focal point, or to slip some height into a small space. It takes up almost no room, yet it brings those very important accents to your garden layout. Without them our plantings have much less appeal and punch. Place this hardy tree among other evergreens of different forms, or use a pair to frame the beginning of a path, a doorway, or the corners of a patio. In time it will reach 15 feet or more, but stay 2 or 3 feet wide. With an occasional trimming it can be kept even narrower, and bring height to the smallest garden.
5.     Hollywood Juniper
We can't leave the junipers without mentioning a personal favorite, and one of the most stunning evergreens around. For a modern garden, and especially one with Asian influences, never leave out a Hollywood Juniper or two. This exotic plant is hard to find, but well worth the trouble. Juniperus chinensis 'Kaizuka', to give it the full name, is a unique evergreen, with irregular, twisted branches, which begin as wandering shoots, and mature into rounded forms that look more like coral than plant. Every tree is unique in form, and unpredictable, although with some clever staking it can be encouraged to grow this way or that. For an exotic, oriental look, and a plant tough enough for the coldest locations, the Hollywood Juniper is an absolute 'must have'.
6.     Vanderwolfs Pyramid Limber Pine
If you need some fast-growing evergreens with real character, that will be eye-catching in winter, and summer too, then this is the top choice. The limber pine is a native tree that grows the length of the Rockies, from Canada to New Mexico, so it knows how to survive both heat and cold. Pinus flexilis 'Vanderwolf's Pyramid' has blue-green foliage on an upright tree that will quickly grow to 20 feet or more, and about half as wide as it is tall. It makes a great taller specimen tree, and with its rapid growth it is ideal for a new garden. It will fill-in quickly, and then mature to become a handsome, rugged specimen everyone will admire.
7.     Dwarf Alberta Spruce
Since we started with green, let's end with it too, and a garden classic – the Dwarf Alberta Spruce, Picea glauca 'Conica'.  This well-known evergreen still deserves a place in every garden, and it is the densest pyramidal evergreen you can find. It needs no clipping to stay perfectly neat. It will grow gradually to 6 feet tall or more, staying about 3 feet wide when mature. Its lighter-green foliage is a good accent against the more normal deep greens of most evergreens, and it grows easily even in the coldest gardens. If that is what you have, remember to plant it so that it is sheltered from strong winds in winter, or spray with an anti-desiccant, as we talked about a few weeks back. If 6 feet tall is too much for you, then consider this tree's dwarf relative, the Humpty Dumpty Spruce. This super-dwarf will stay small and compact for years and years, and is the ideal choice for the smallest garden. Heck, why not plant them both?